Bangkok is the capital city of Thailand and houses plenty of buildings more than 200 meters in height. Although the number of skyscrapers is very less compared to its shining neighbors such as Jakarta, Kuala Lumpur, Singapore, and Manila, the skyscrapers will surely leave you spellbound at the very sight of them.
Top 10 Buildings & Skyscrapers in Thailand that definitely Need a Look In
1. MahaNakhon Building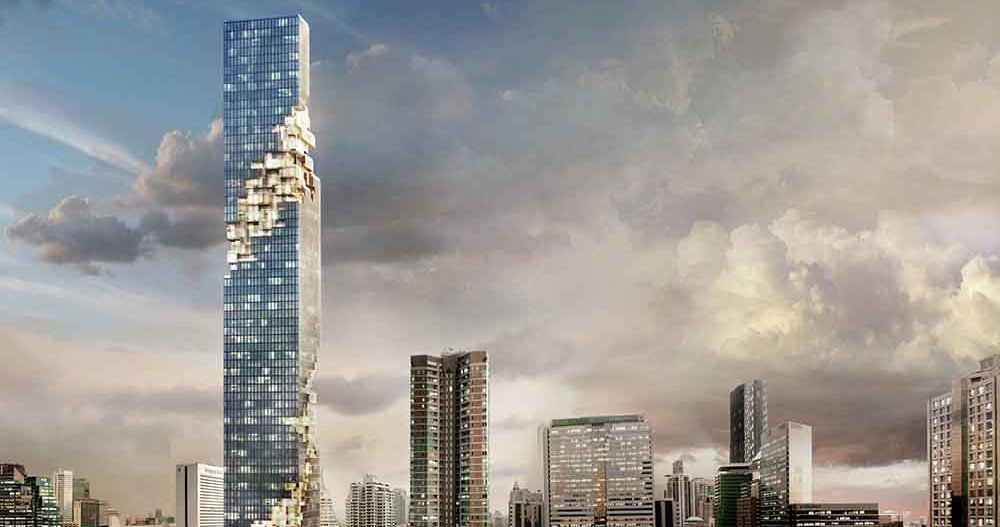 Standing at 314 meters above sea level, this iconic skyscraper is one of the shining stars in the most visited city in Asia. There are 77 floors in this cubic masterpiece that takes you closer to the sky. This magnificent building serves as a multi-purpose building. It houses a shopping mall, fine dining restaurants, entertainment facilities, garden plaza, office spaces, ultra-luxurious apartments, and Bangkok's first Ritz-Carlton Hotel. The top three floors are reserved for a multi-level restaurant, bar lounge, and an outdoor terrace that comes with a 360° view of the beautiful skyline of Bangkok city.
2. Grand Palace 
Tucked by the banks of Chao Phraya River, Grand Palace is located in the heart of Bangkok. It is an architectural wonder and one of the top tourist attractions in Thailand. Inside the complex, there are beautiful structures like the Temple of the Emerald Buddha, government offices, and the royal residence. Earlier, it was used as an official residence of the King of Thailand (then Siam) and continues to host royal ceremonies today. Stroll around in gardens, halls, and courtyards; immerse in the splendor of the architecture.
[ Do Read: Most Beautiful Temples in Thailand ]
2. Baiyoke Tower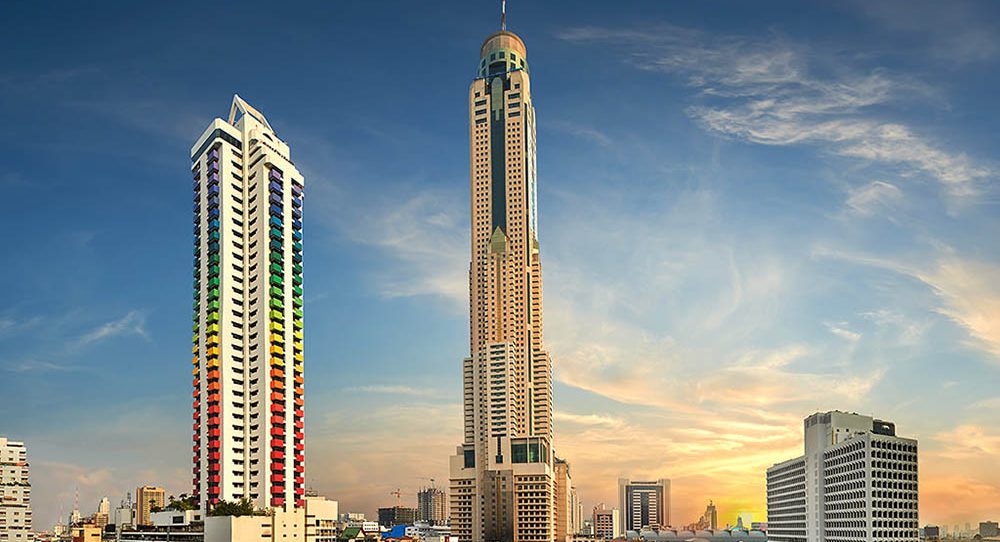 Standing just 10 meters short of the magnificent MahaNakhon building, this 84-story building is placed in the Pratunam area. This unmissable towering landmark of Bangkok has a skywalk with beautiful windows. The 77th floor presents a wonderful opportunity for stunning panoramic views of the skyline as compared to the revolving observation deck on the 84th floor of the building, where it is a bit noisy and tough to keep visitors for too long. The Baiyoke Tower was launched in the year 1998 and has a shopping complex and plenty of other attractions clubbed under one roof. With the popular Pratunam market in its neighborhood, you can look out for some good deals on clothing and garments. One of the ancient buildings in Bangkok is still standing strong.
3. Silom State Tower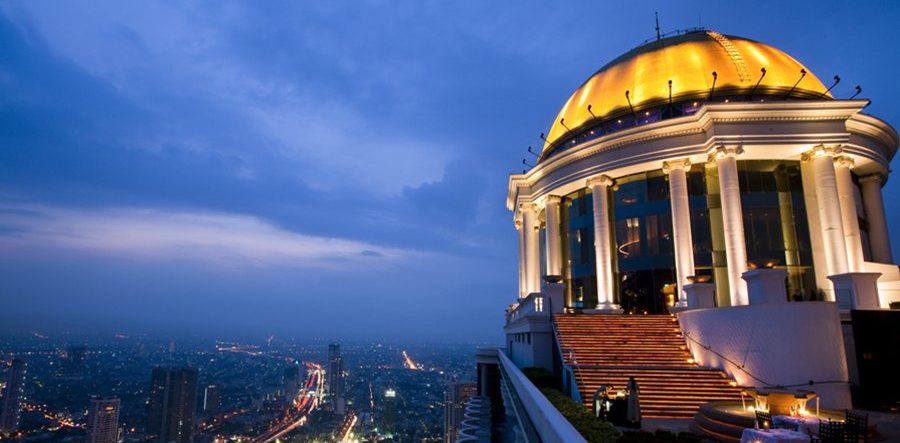 Standing tall at 247 meters above sea level, this tower is a condominium project which was launched in the year 2002. This condominium consists of a single building featuring 68 floors and 1700 units. The state-of-the-art building features modern amenities like an elevator, 24-hours security, parking, CCTV, swimming pool, gym, playground & kid's play area, sauna, restaurant & shop on premise, Wi-Fi, etc. With an array of shops, schools, restaurants, and even a hospital in its vicinity, you are sure to enjoy a stay or visit here.
4. Centara Grand at Central World
This grand building gives you unmatchable views of Bangkok city and is placed just a 10-minute walk from Khlong Saen Saeb. This 235-meter tall building features a modern 5-star rated hotel, outdoor tennis court, business center, meeting rooms, free Wi-Fi, and a Jacuzzi. Guests can enjoy various treatments and therapies at the on-site spa and wellness center. All the rooms in the hotel come with modern décor, air-conditioning, a pillow menu, a mini bar, a refrigerator, breakfast in bed, and slippers. The guests who are residing at the Centara Grand get access to the Red Sky Bar, one of the best rooftop restaurants in Bangkok, and the Fifty-Five fine dining restaurant. One of the modern offerings of Bangkok city which you should never miss out on.
5. Reflection Jomtien Beach Oceanfront Tower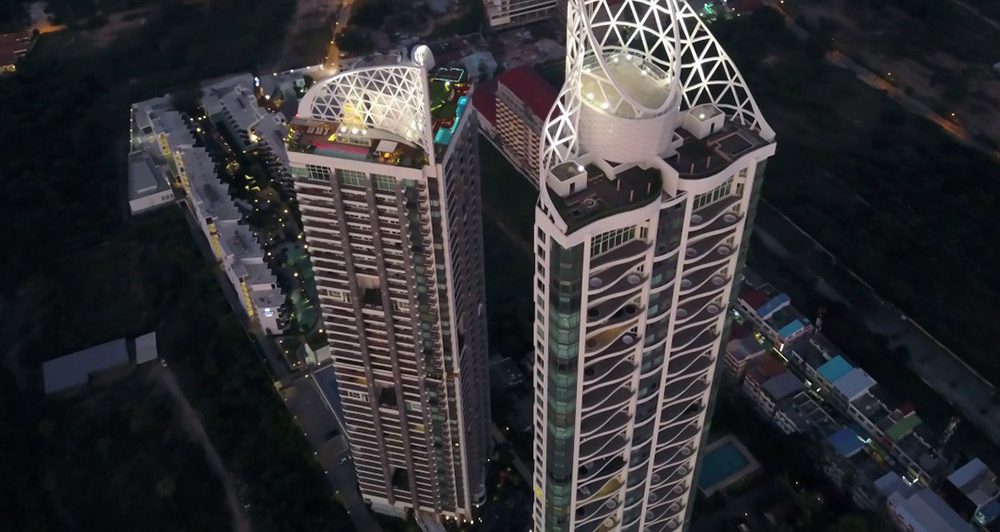 Placed along the beachfront, the Reflection Jomtien Beach Condo by Dome is a self-catering apartment that features a balcony with access to incredible sea views. This residential tower also features two outdoor pools, free Wi-Fi, a communal sauna, a fitness center, a shared lounge, free parking, a steam room, a children's play area, and a tennis court. The fully-furnished houses are air-conditioned and have a separate living room, bedroom, dining area, and kitchen – all equipped with modern facilities like a flat-screen satellite TV, stovetop, kitchenware, and a microwave. With the Pattaya floating market and the popular Walking Street Pattaya placed at an 8-minute drive and 20-minute drive respectively from the building, you can rest assured of a wonderful time out here. The Bangkok Suvarnabhumi Airport is located at a 2-hour drive by car from this magnificent tower.
6. The Met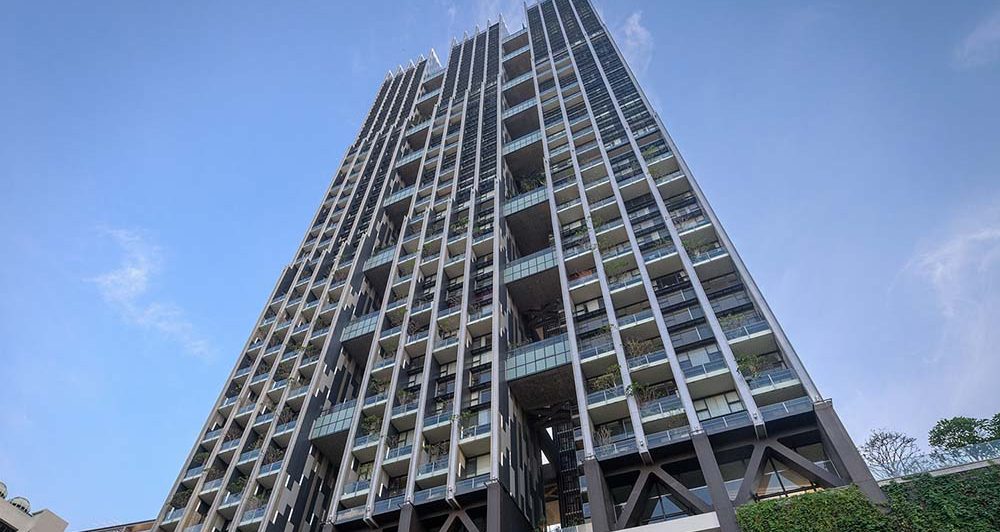 This residential skyscraper in Bangkok has been designed by the best housing development award winner; WOHA. Measuring 230.6 meters, this building features the sixth tallest building in Thailand. Built with the concept of exploring ideas of how low-rise tropical housing can be applied to give rise to outdoor-indoor spaces in the sky. The building was designed from the western temperate models and features Thai tiles, textiles and timber paneling, outdoor spaces, gardens and verandas, gardens, swimming pools, etc. for creating a better lifestyle for the metropolitan population. A building comes with a cooler breeze, less dust & noise, better views as you go higher, and more privacy and enhanced security. The building structure gaps are bridged with a sky garden which takes care of exterior entertaining areas directly off the outdoor living spaces.
7. The Empire Tower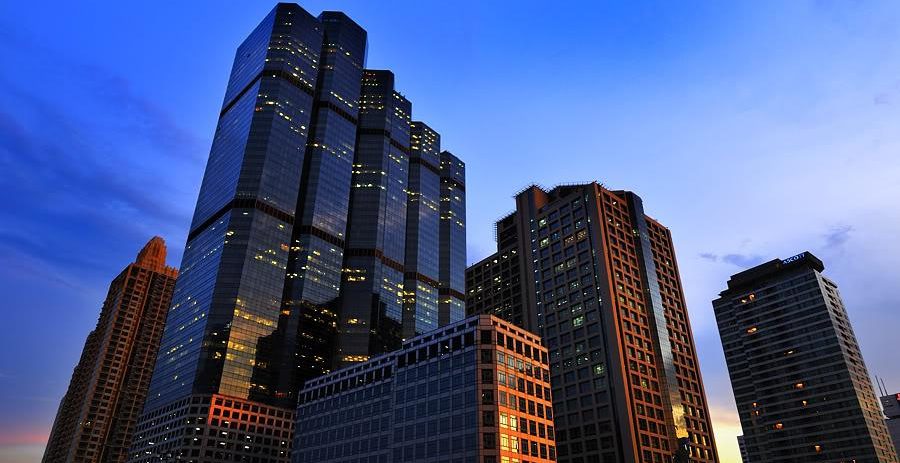 A Skyscraper 226.8 meters high is placed in the Sathon business district and adjacent to Sathon Road and Narathiwat Road. This is officially the tallest office building in Thailand and features 62 floors spread over 350,000 square meters. It is considered a symbol of the central business district since its inception primarily due to close business areas.
8. Northern Point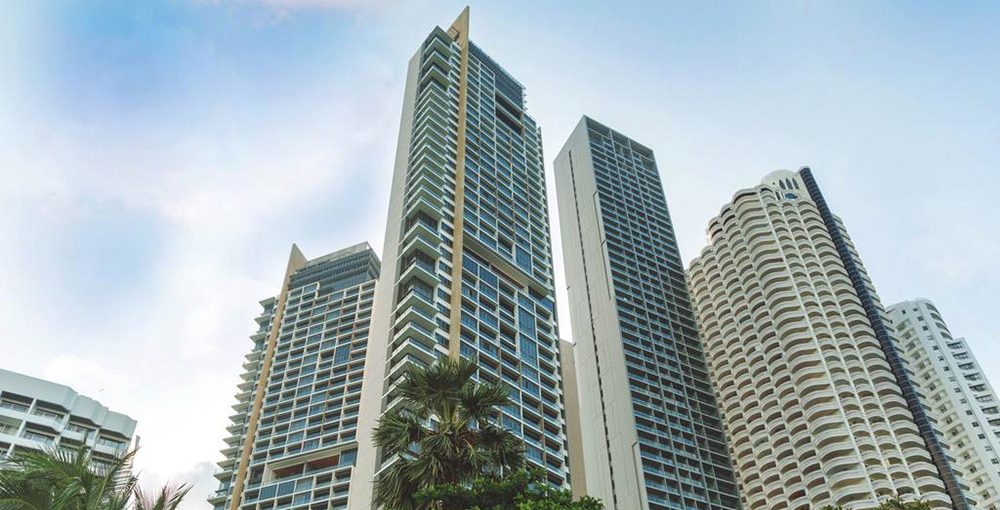 This twin-tower condominium has definitely raised the benchmark levels for residential complexes in Pattaya with its high return on investment and incredible quality for their developers along with humanizing and democratizing the high-rise 3D model concept. This 226-meter high building in Thailand is spread over 30,000 square meters per building and is placed at the northern end of the Pattaya beachfront road. Blessed with enchanting views across Pattaya Bay, the two single-loaded corridor towers house 54-story and 46-story towards the north.  One of the striking features of this project was its inbuilt flexibility with its service elements placed along the corridor wall and the main risers on the other side of the corridor. This building is a fascinating display of how creative solutions gave rise to a new typology in high-rise multi-residential design.
[ Also Read: Top Things to Do in Pattaya ]
9. Jewelry Trade Center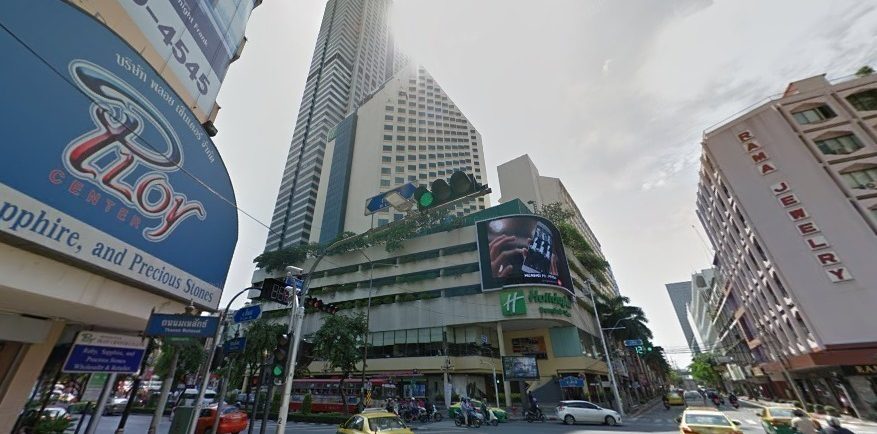 Standing at 220.7 meters, the Jewelry Trade Centre is one of the leading commercial premises for diamonds, gems, assorted jewelry, and other precious stones and is placed on Silom Road in downtown Bangkok. Blessed with 180,000 square meters of retail, office, and residential space on the 4.5 acres of land. This is one of the prime trading hubs for exporting jewelry and gems to the international market, it houses 300+ leading retailers and 1500+ wholesalers. Do polish your haggling skills before you land here for a great deal. This tower in Thailand features modern lifestyle amenities like free Wi-Fi, a personal shopping assistant if booked in advance, an array of chic boutiques, popular restaurants, a tree-lined central courtyard, and much more. You also have a 7-day refund policy on all the jewelry and precious stone items and a rare chance to enter a lucky draw for purchases above 5,000 baht.
10. The Pano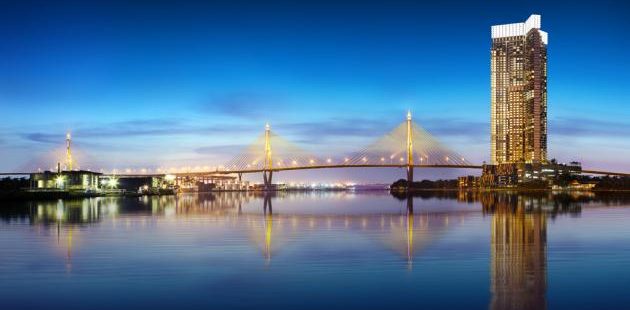 Inspired by the dramatic landscape of Thailand, the unique environment of the Pano's development gives you access to the best natural offerings in Thailand. This building provides guests and residents with a refreshing way of living with the sights and sounds of the bustling Kuala Lumpur city life from an elevated platform. The lift core wall consists of a beautiful palette of varied grey tones, infused with a juxtaposing series of sky gardens and splashes of refreshing green spaces in its vicinity. The enchanting sky gardens give the residents unlimited access to breathtaking views of the river and the busy city life. The residential buildings are spacious and come with large corner glass cliff balconies and unparalleled views of the river.