Thailand is known the world over as "the land of smiles" due to its welcoming people, beautiful beaches, and great food. You can do more in this Southeast Asian nation than relax on the beach and eat delicious street food. Outdoor enthusiasts will find a paradise in Thailand, with its verdant jungles, towering mountains, and diverse fauna. Some of the top outdoor activities in Thailand are listed below.
Discover Chiang Mai's Trails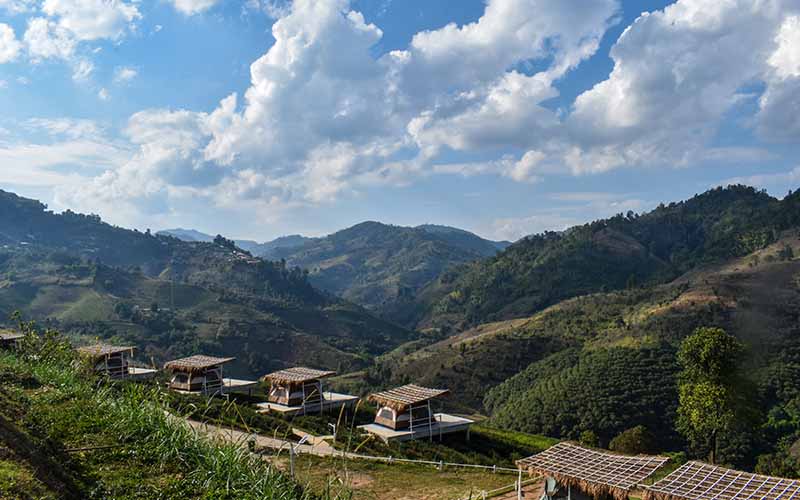 Chiang Mai, located in northern Thailand, is a popular starting point for hikers and trekkers. There are hiking paths of varying difficulty in the nearby hills and mountains, from short strolls to extended backpacking trips. Discover verdant forests, pay a visit to the homes of the hill people, and take in breathtaking vistas. Whitewater rafting in the Mae Taeng Valley and climbing Thailand's tallest mountain, Doi Inthanon, are two of the country's most popular trekking destinations.
Climb the Cliffs of Railay
Located in Krabi, Railay is a climber's dream destination. The beach is surrounded by huge limestone cliffs that provide a spectacular backdrop for climbers of all skill levels to enjoy. Even if you have never climbed before, you may try it out with the help of one of the many guides or climbing schools that provide equipment and instruction.
Try Snorkeling and Diving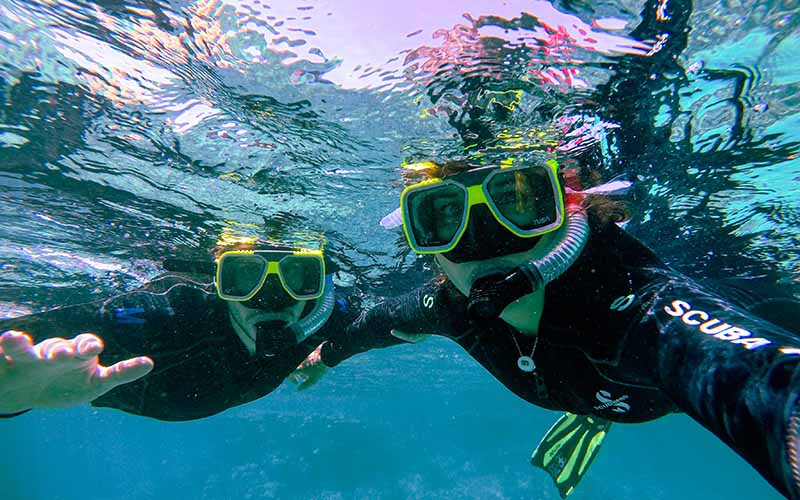 Koh Tao, popularly known as Turtle Island, is a little island in the Gulf of Thailand that has become a popular destination for scuba divers and snorkelers. Colorful tropical fish, rays, and even whale sharks swim freely in the azure seas. Snorkelers and divers can go on guided tours of the island's reefs.
Explore Khao Sok National Park from a Kayak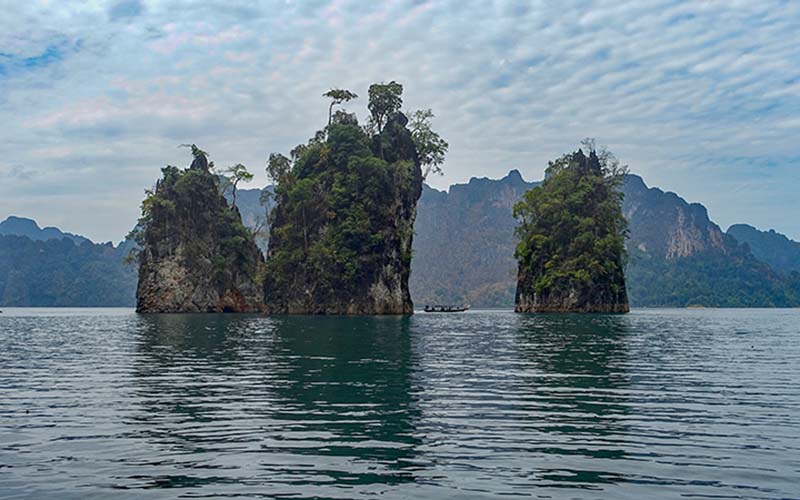 Located in southern Thailand, Khao Sok National Park features a beautiful network of limestone cliffs and caves in addition to one of the world's oldest rainforests. Kayaking on Cheow Lan Lake, with its placid waters and breathtaking surroundings, is a great opportunity to get to know this natural treasure. Night safaris are another option for seeing species like elephants, gibbons, and leopards that are normally nocturnal.
Take a Trip to Sukhothai by Bicycle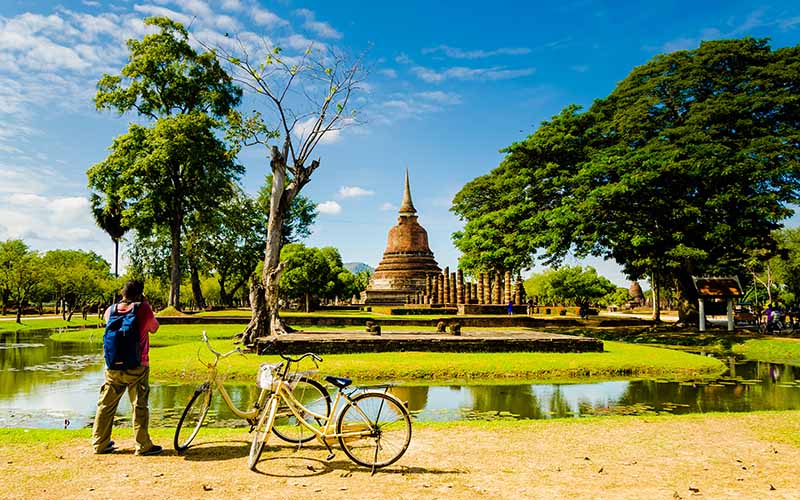 Central Thailand is home to a UNESCO World Heritage Site called Sukhothai, which dates back to the 13th and 14th centuries. It served as the capital of the first Siamese monarchy. Biking is a terrific way to see the ancient temples and ruins at your own leisure because they are spread out across a broad region. Rent a bike from one of the many stores close to the park's entrance and ride through the winding trails while stopping to take in the park's gorgeous architecture and detailed carvings.
Chiang Rai Zipline Adventure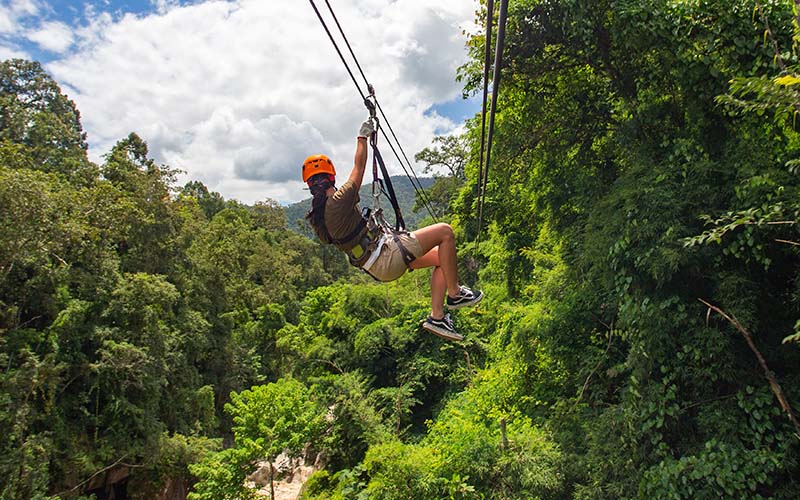 The intersection of Thailand, Laos, and Myanmar is known as the "Golden Triangle," and it is in the city of Chiang Rai in the north of Thailand. However, ziplining is an exciting adventure activity available in the city. You may enjoy the breathtaking scenery of the surrounding mountains and forests as you soar through the canopy on a network of ropes and platforms. Several local companies provide ziplining tours of varying durations and degrees of challenge.
Rafting in Pai-Pai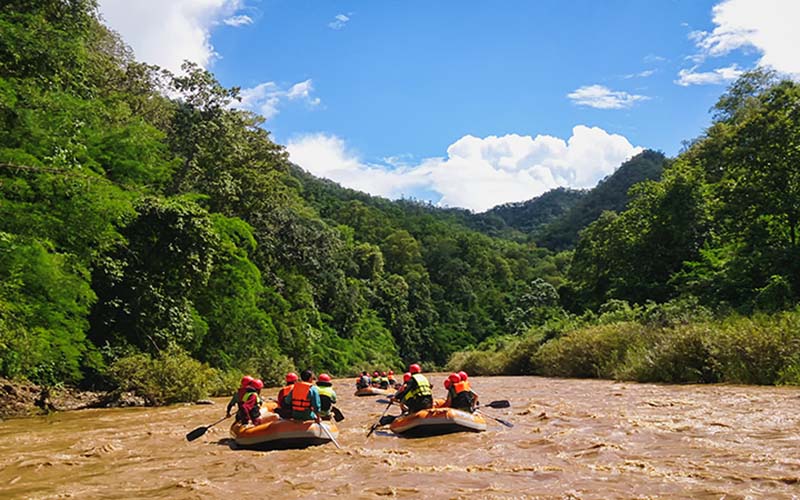 Backpackers and adventurers go to Pai Pai in northern Thailand for whitewater rafting. Whitewater rafting on the Pai River is a popular activity for visitors. Enjoy the excitement of riding the waves while being surrounded by beautiful forest views, no matter your level of rapids experience.
Experience Chiang Mai's Elephant Trekking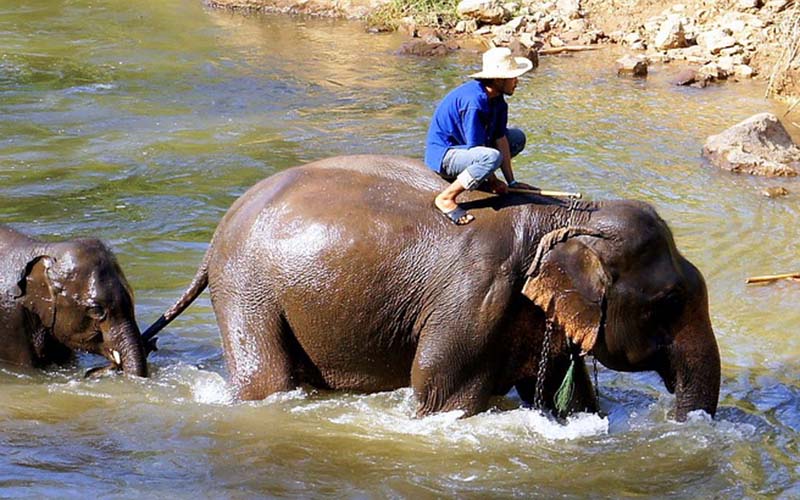 Many people who travel to Thailand hope to get up close and personal with the country's iconic pachyderms. One method to achieve this is to go on an elephant trek, during which you can ride one through the forest, visit a sanctuary where elephants that have been rescued are cared for, and even assist in feeding and bathing the elephants.
Island Hopping
The Andaman Sea island-hopping Thailand has some of the world's most stunning islands; visiting these islands by boat is a must. Islands like Koh Phi Phi, Koh Lanta, and Koh Yao Noi are accessible via day trips or multi-day expeditions, and they have snorkeling, swimming, and sunbathing opportunities on pristine beaches.
Khao Yai National Park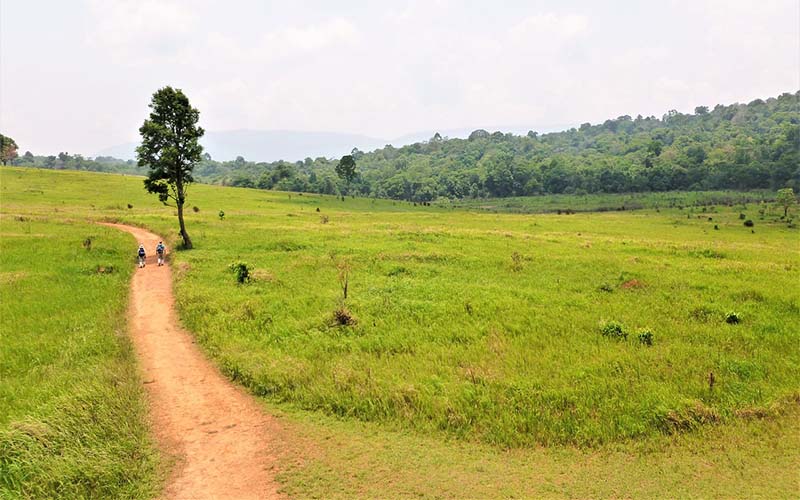 Khao Yai National Park is a recognized UNESCO World Heritage Site in the middle of Thailand and is home to more than 300 birds. You can go on a guided tour to see birds like hornbills, woodpeckers, and eagles, or you can explore and get thrilled on your own.
Surfing the Waves
The waves of Phuket, located in southern Thailand, are a favorite vacation spot and a top spot for surfers. You may discover breakers that are appropriate for both beginners and expert surfers, and there are several places to rent equipment and take instruction.
Hot Air Balloon Ride
Take a hot-air balloon ride over the beautiful countryside near Chiang Mai for a once-in-a-lifetime adventure. You may witness the sunrise or sunset while floating above rice fields, rivers, and forests—a sight few people ever get to experience.
FAQs
1. How do the weather conditions in Thailand affect outdoor activities?
Outdoor enthusiasts should plan their trip to Thailand for the milder, drier months of November through February. The weather is perfect for bike rides, hiking, and other outdoor activities. However, tourists should remember that it is the busiest time of year, so expect higher prices and more people.
2. Can I enjoy Thailand outdoors if I need to be in better shape?
It depends on your preferred outdoor activity. For example, watching birds or riding in a hot air balloon are leisure pursuits that only demand a little legwork. However, activities like whitewater rafting and trekking may require a certain level of physical fitness and flexibility. Make sure you inquire about what to expect in terms of physical exertion from the activity's provider in advance.
3. How risky are trips to Thailand's great outdoors?
If you take the proper measures and listen to your guide, outdoor activities in Thailand are often very safe. While it is impossible to eliminate all risks, you can lessen them by working with reputable service providers, donning the proper protective gear, and keeping in mind your own capabilities and limitations.
4. When doing outdoor activities in Thailand, what should I pack?
Both the event and the weather need to be considered. Hiking and trekking require specific gear, including strong shoes or boots, lightweight layers, and a hat for sun protection. Water sports like white water rafting and surfing require participants to wear swimsuits or wetsuits. You should also carry an umbrella or raincoat in case it rains unexpectedly.
5. Is it possible to plan ahead and reserve outdoor experiences in Thailand?
During the popular tourist season, arranging outdoor activities in advance is recommended to avoid disappointment. You can prearrange and prepay for many activities on suppliers' websites or use the services of a travel agency or tour operator. In case your plans change, check the cancellation and refund conditions carefully.
Conclusion
Thailand is a traveler's dream, a nation of boundless opportunity for those who love the great outdoors. This stunning country has lots to offer everyone, from heart-pounding adventures to relaxing time in nature. The best of Thailand's outdoors awaits you, so remember your sunscreen, bug spray, and spirit of adventure.