Thailand is much beyond just tranquil beaches, lovely resorts, spas, and delectable cuisine, which some people might not be aware of. Not that it is unexpected but Thailand is the centre too of a number of adventure sports that are well known among thrill seekers. Thailand is the ultimate place for you whether you enjoy action or simply want some excitement in your life. In addition to being relatively inexpensive in comparison to other opulent travel locations, Thailand also provides a broad range of activities. There are more adventure-related activities in Thailand than you could possibly imagine. Not every activity requires you in being a connoisseur; some of them are simple enough for a beginner to engage in. However, some occupations call for a serious addiction to adrenaline. If you wish to explore the ABC of the best adventure in Thailand, this article will have you covered.
A Quick Look on Some Popular Adventure Sports in Thailand
There is no dearth of outdoor things to do in Thailand. Let's explore some of the most well-known,
Flyboard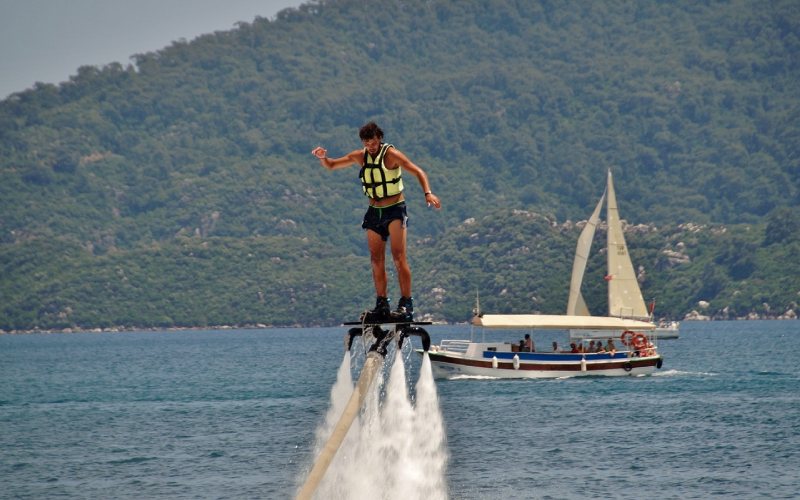 Flyboarding is a relatively new addition to the exciting adventure sports offered in Thailand, and it is sure to pump you complete of adrenaline. A jet-powered flying board, the flyboard provides the impression to hover both on the water and in the air. A flexible, long hose connects the flyboard to the jet-ski's water jet. The board can fly up to 9 meters above the water, twist, somersault, do acrobatic manoeuvres, dive below, and swim. You will feel as a dolphin participating in this adventurous sport. You will connect with nature while you are flying, splashing water on the face, or looking up at the clear skies.
Kayaking and Canoeing

In Thailand, eco-adventure tourism activities like kayaking & canoeing are particularly well-liked sports. Exploring remote areas while manoeuvring a canoe or a kayak is wonderful. Inland tours & ocean kayaking both are accessible in Thailand. Just take in the beautiful countryside that remained untouched for generations. The body will release adrenaline when you explore lagoons, islands, mangrove forests, towering cliffs, caverns, and uncommon animals and plants in the floating kayak or canoe. The motionless waters adjacent reservoirs and dams also ensure exciting adventure. The leading tour companies offer the services and tools required for tourists to enjoy nature sans harming or polluting the environment. You are under the guidance of seasoned locals who are well familiar with the region.
Rock Climbing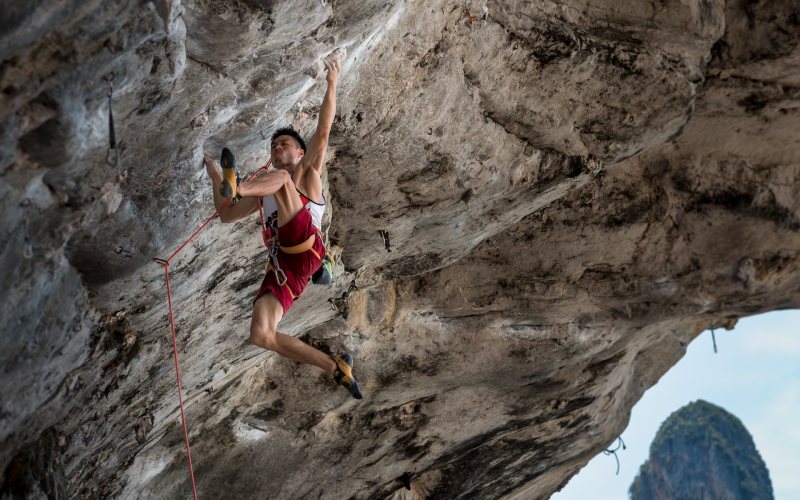 One amid the exciting pursuits for individuals who love adrenaline, challenge & outdoor sports indeed is rock climbing. Though it is a little risky rock climbing has gained ample recognition among adventure seekers. Most popular rock climbing locations across the world are in Thailand. Immense desire in scaling the heights waits amid magnificent landscape. Although rock climbing is physically and psychologically taxing, the exotic setting and excitement make it a memorable experience. Take pleasure of the vista of the paradisiacal nature after a sweat-inducing exercise is pure happiness. Rock climbing shops offer all the necessary equipment, training sessions (if you are still a beginner), and knowledgeable guides who will show you the greatest climbing routes.
White Water River Rafting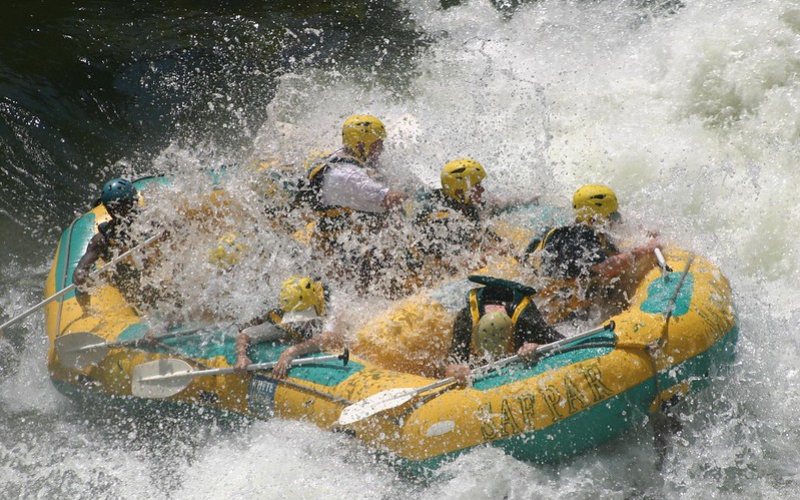 One of the most adventurous activities in Thailand is river rafting. The immense excitement to navigate the swift waves is not for those with a faint heart. The nation is home to several untamed rivers. These rivers often times run swiftly and comprise rapids of I to V grade as well as boulders & other obstructions. In fact you will feel your heart rate going up as the raft goes down the river. Safety and fun come first on each rafting adventure. The much-needed safety equipment includes helmets, life jackets, and hypalon self-bailing rafts. Rafting guides are knowledgeable locals with extensive expertise in the river region. This is a truly thrilling experience whether you have rafted white-water rivers before or not.
Cave Exploring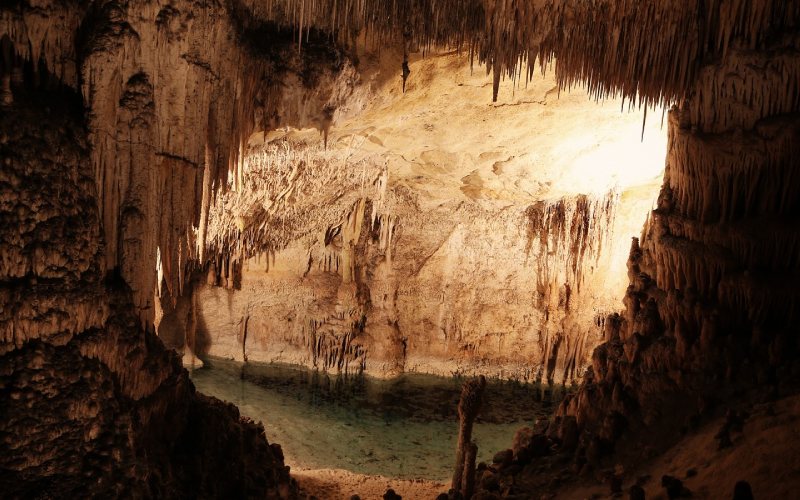 The caves in Thailand have created a niche for their spirituality, mysticism, and difficulty. A favored excursion in the nation is exploring these old caverns. Several caverns are still in usage as temples. These serve as location for Buddhist events including meditation retreats. Natural sculptures such as stalactites, rivers, stalagmites, and lakes were used to form the caverns. Exploring nature's wonderful marvels is enjoyable. The thrill of the unidentified is an adventurous emotion and a once-in-a-lifetime chance. Owing to high carbon dioxide level in the air, Thailand's caverns are quite hazardous. Extremely low temperatures are another factor. Before starting the expedition, you will need specialized camping equipment and the right preparation.
Scuba Diving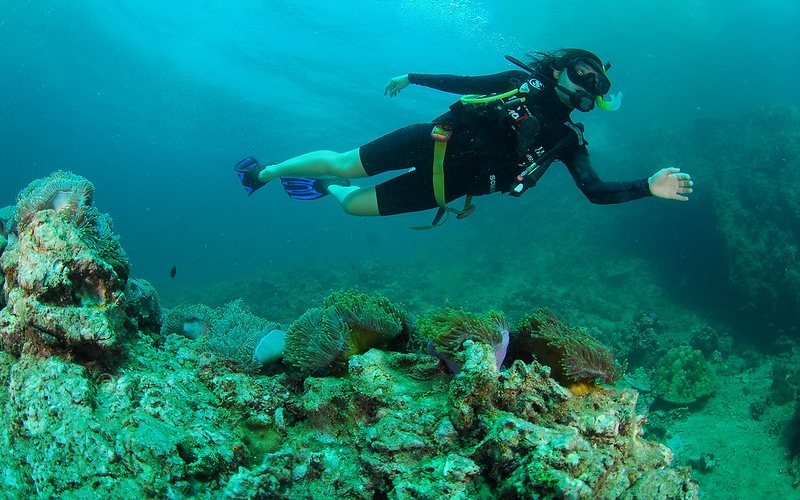 Thailand's most renowned water sport is scuba diving. A vacation to Thailand would not be complete without experiencing at least one of the leading 10 adventurous activities that is seeing the beautiful aquatic world. In fact there are over 2000 miles of shoreline, hundreds of islands, and wrecks that may be investigated. The most stunning dive locations in the world may be found in Thailand. On an average, the sea is about 28 °C, and the water is very clear. The seas are home to an abundance of marine life, including manta rays, whale sharks, eels, huge barracudas, and many species with vivid colors. The experience is unmatched in every way.
Chonburi Eco Zipline Tour
If you have not tried a zip line in Thailand, your adventure is not complete. A mind-blowing experience is Thailand's Chonburi Eco zipline. Soar across 3 km of thrilling zip-line tracks located in protected rainforest between Khao Kheow Open Safari Park and Champoo Wildlife Sanctuary. Witness the beauty of Thai rainforests while woven into the eco-system of the jungle from lofty trees. Over 300 metres (984 ft) high is where Thailand's tallest zipline is located. 2 hanging sky bridges, 24 platform stations, and two abseil descents are present. Along the way, learn about the flora, animals, and wildlife while experiencing the thrill of adventure. Adventure sport is secure since qualified personnel handle the zipline and secure you in a harness. Now feel the rush of excitement as you travel through the beautiful woodlands at a speed that makes you feel like you are flying.
Elephant Trekking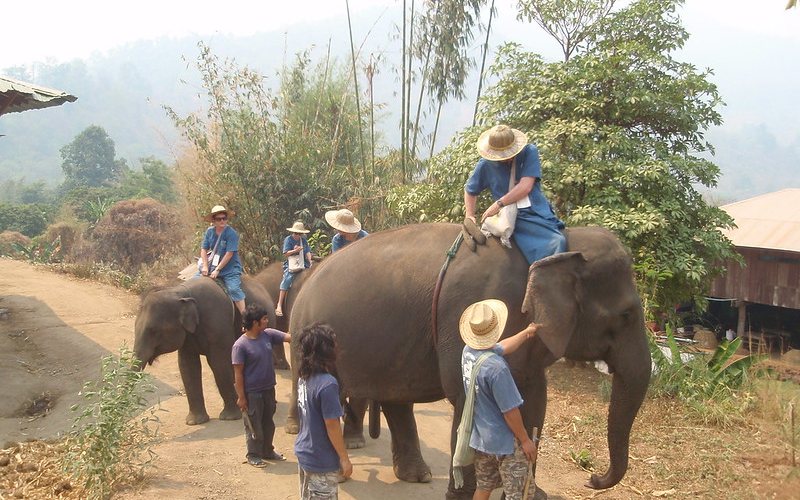 Thailand's elephants are an essential element. The friendly animals have lived in the nation since the beginning of written history. There are several wild species & some submissive ones that have undergone skilled training. Elephant trekking, a kind of ecotourism, is one of the ten most daring activities to try in Thailand. You can explore Thailand's stunningly magnificent natural geography by going elephant trekking. The elephant journey offers some of the nicest views. Observe wildlife while riding an elephant. The animals are trained in special elephant camps for trekking expeditions. These pleasant and engaging elephants are great for bathing, feeding, and playing with.
Krabi Rainforest Discovery
This is a thrilling excursion. Learn about and take in the magnificent natural splendors of the rainforest. A variety of spiders, rattan creepers, insects, birds, flowers, and hermit mountain crabs live among the lush tropical vegetation. Tropical wildlife and habitats abound here. The "bathtubs jacuzzi" that has been naturally hollowed out is the adventure's high point. These have warm, 35–40 °C spring water pouring through them. Find the tranquil jungle spa. Touring Krabi Tiger Cave concludes the excursion. Monks live here and meditate in the limestone caverns. A 300-meter (1237-step) stairway and a short but enjoyable stroll will take you to a huge Buddha statue sitting atop the cliff. The vantage point provides a beautiful sunset view.
Koh Samui Jungle Tour
Koh Samui is endowed with a wide variety of tourist attractions. This island has a completely untouched aspect and is one of Thailand's most well-known tourist destinations. The picturesque seashores lead to mysterious woods that are rich in animals, waterfalls, caverns, and adventure. One of the exhilarating activities is the Koh Samui Jungle Tour. On a daring 4-wheel drive jeep, explore the fascinating topography of the tropical forest. Off the usual path, you may find lush vegetation, raging rivers, secret valleys, and distant, beautiful waterfalls. Operators who are familiar with every crevice of the jungle plan the jungle trips. The environment is very thrilling. Revel in nature's untainted beauty. Look for snakes, birds, and other jungle creatures.
Conclusion:
Thailand's tropical beauty is more than meets the eye. A little research reveals immense fascinating secrets. Together with its fantastic experiences and stunning landscapes, this "Land of Smiles" again is also recognized for its once-in-a-lifetime adventures. Pass up the throngs and the well-known, and be all set to explore the fascinating part of the nation. In short, Thailand is teeming with chances for adventure, excitement, and discovery. There are a plenty of exciting things to explore in Thailand for adventurers. There are several experiences, comprising ones in the deep part of the ocean, swift rivers, & beautiful jungles.