Thailand is one of the most popular holiday destinations in Southeast Asia. Rich in culture and heritage, Thailand is also a country with picturesque beauty. There are so many places to see and things to do in Thailand, you would find one holiday quite short to see it all. Be it the cities or the several hundred islands of Thailand, you would find something interesting everywhere in this amazing country. While you may not be able to cover all the important things to do in one holiday, there are some that you must definitely not miss.
1.The Grand Palace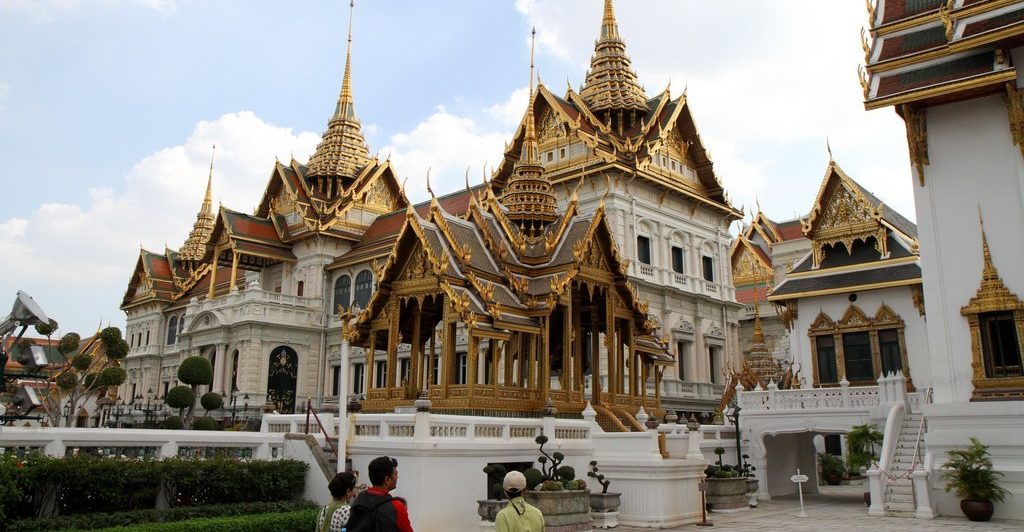 One of the major landmarks of the city of Bangkok is the Grand Palace, which was the official residence of the King of Thailand (then Siam) till 1925. The palace complex is replete with some of the most amazing buildings and structures that you would need at least half a day to explore the entire place. As the place is still used for official purposes, there are some places which are restricted for the public. However, there are beautiful temples, royal residences, government offices, etc. that await you at the Grand Palace. Some of the places you must definitely check out here include the Thai Temple of the Emerald Buddha, Wat Phra Kaew, Amarinda Hall, Boromabiman Hall, etc.
2.Ayutthaya Historical Park
Ayutthaya is a significant part of Thailand's history as it acted as the second capital of Thailand before the place was burned by the Burmese army. For 100 years, the ruins of the city remained buried under the ground. Today, the ruins have been unearthed and the place is a UNESCO World Heritage Site. Just like the Grand Palace, this historical park also has some magnificent buildings although most of them are in ruins. However, it is a great place to glimpse at the history of Thailand. Few of the places in this historical park which you must surely see are Wat Phra Ram Temple, Wat Phra Si Sanpket, Wat Chaiwatthanaram Monastrey. Mahathat Temple, etc.
3.Phi Phi Islands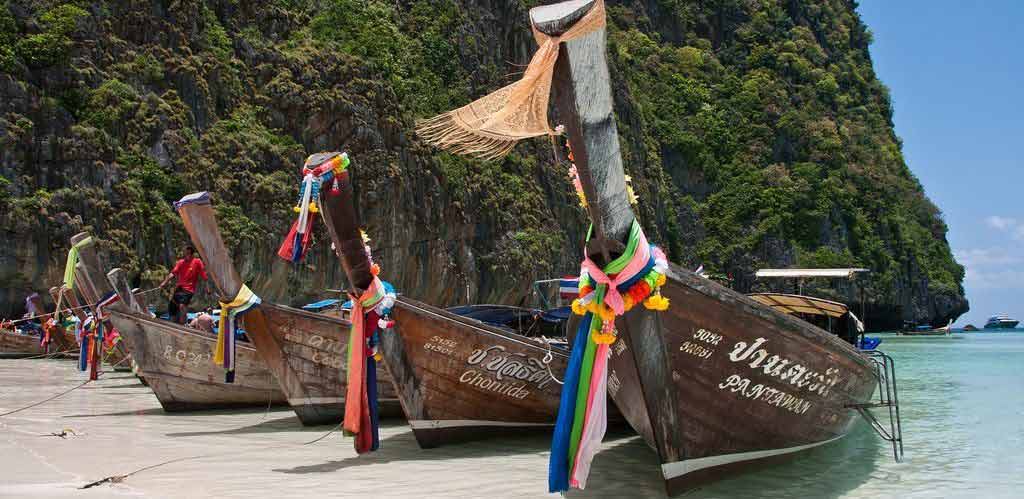 While Thailand offers lots of places for sightseeing, it is not just about the temples and the vibrant cities. For many, the highlight of the Thailand tour is the visit to the enchanting Phi Phi Islands. The Phi Phi Islands are true gifts of nature as they are bestowed with a rich marine life, limestone cliffs, caves, white sand beaches, deep blue waters and a fascinating marine life. If you are looking forward to a laidback holiday, the Phi Phi Islands is a place you must definitely visit. While you are not lounging on one of the pristine beaches in the island, you can indulge in some adventure activities like scuba diving, snorkelling, rock climbing, etc.
4.Damnoen Saduak Floating Market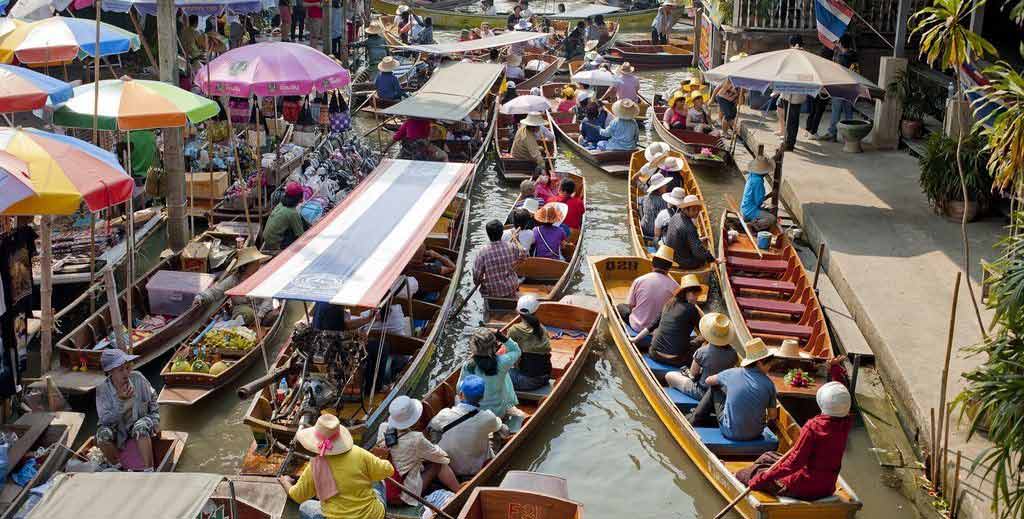 Thailand is quite famous for its vibrant and exciting floating markets and the best amongst them is the Damnoen Saduak Floating Market. The sight of the long tail boats floating in canals is quite exciting, and the best part is that you get to shop too. The boats at this floating market sell everything from clothes to souvenirs to food and fresh produce. If you want to avoid too much crowd, you must arrive at the place early in the morning. You can also have your breakfast at the market where vendors sell delicious coconut pancakes, noodle bowls, stir fried dishes, fresh fruit, etc. Moreover, if you are planning to buy something from one of the vendors, do not forget to bargain to get a good price.
5.Koh Lanta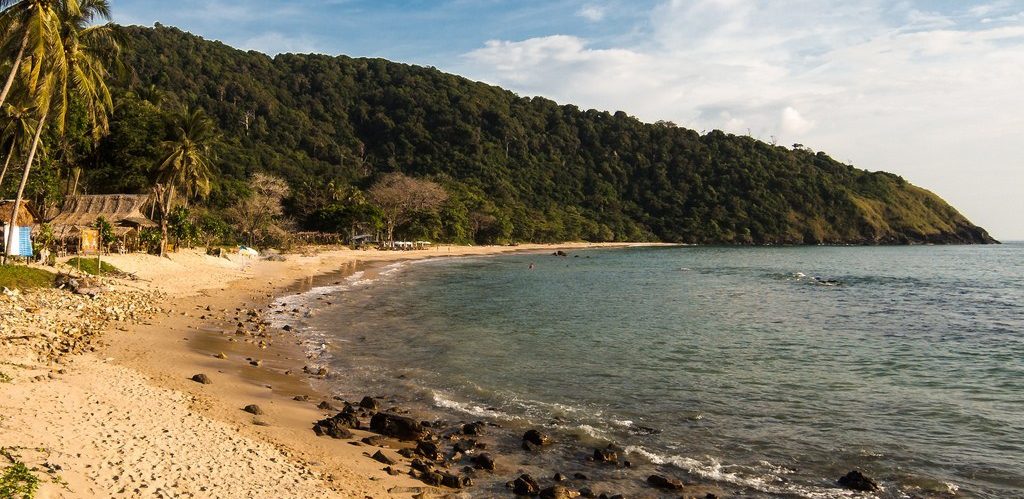 If you want to experience a laidback holiday without the crowd of Phi Phi Islands, head to Koh Lanta, which is an hour away from Phuket (by boat). Made of several small islands, Koh Lanta has everything that makes it one of the best places in Thailand for the perfect beach holiday. The place has some amazing beaches and nature reserves that are truly breathtaking. You will also get the chance to go scuba diving, kayak through the mangrove forest and eat delicious seafood at the local restaurants.
6.ChinaTown Market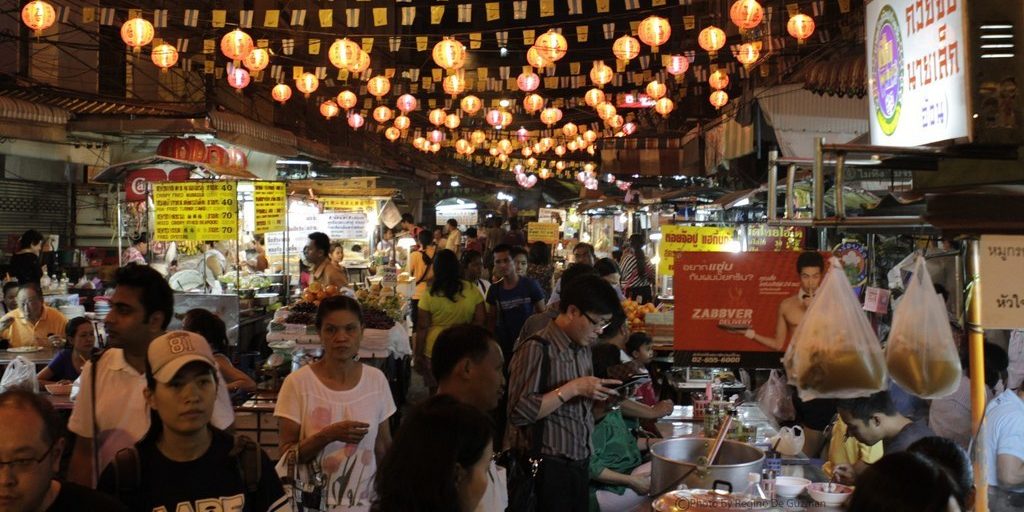 Thailand, especially Bangkok, is famous for its shopping avenues, and hence is a dream place for shopping lovers. One of the best places to shop in Bangkok is Chinatown. The entire Chinatown is a 1 km road that is filled with stalls, shops, restaurants, etc. Apart from buying clothes, souvenirs, trinkets and gold, you must also check out the several street-side restaurants that serve the most delicious local Thai dishes. Even if you do not want to buy anything, do visit Chinatown to experience the unique ambience of the place.
7.Chiang Mai Sunday Night Walking Street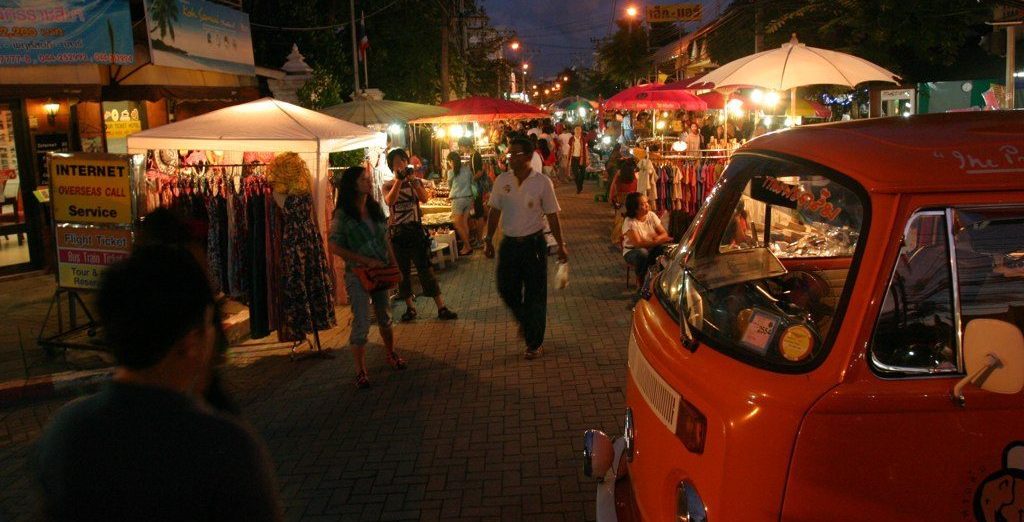 The Chiang Mai Sunday Market happens at the Ratchadamnoen Road, every Sunday, from 4 in the evening until midnight. The entire road is barred for vehicles and instead is flooded with vendors selling different types of goods. You can buy clothes, handbags, wooden handicrafts, art work, pretty lanterns, party lights and a whole lot of other things that are perfect as souvenirs. You can also get to taste some amazing Thai food at this street market. Apart from this, this street market also has a massage area where you can get yourself a Thai massage. The busiest time in this market is late evening. So if you want to visit the stalls without a crowd hovering around you, start a little early.
8.Phang Nga Bay
Gorgeous limestone cliffs, emerald green waters and white sandy beaches await you in Phuket's Phang Nga Bay. While the place has some amazing spots, Koh Panyee and James Bond Island are two places that you should not miss. The best way to explore this place is to go on a cruise which takes you island hopping. While you can enjoy the beauty of the cliffs and the sea, you also get the opportunity to visit beautiful beaches and relax. The sheer beauty of Phang Nga Bay has the ability to take your breath away, so do not miss it!
9.Hill Tribe Villages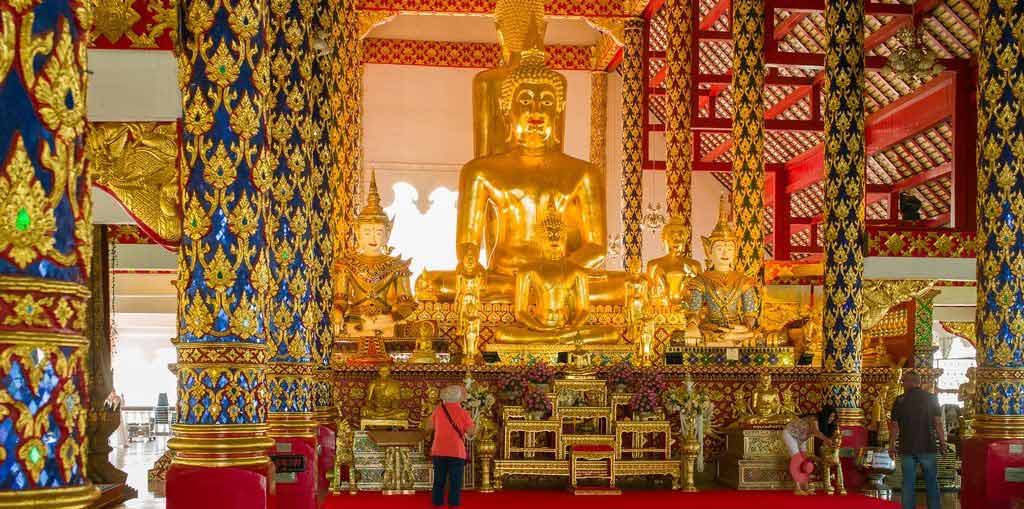 There are several hill tribe villages in Thailand which would be fascinating for you if you are a person who liked to learn about the people and culture of the place you go to. Some of the hill tribes are Palong, Akha, Karen Long Neck, Lu Mien Yao and Lahu. You need to get an admission ticket to drive through these villages. You can also choose to stop your vehicle and explore these villages by foot. One of the most fascinating tribes amongst these is the Karen Long Neck tribe. The ladies of this tribe are known to wear brass coils weighing 30 pounds around their necks. You can also take a look at the unique handicrafts of each of the tribes and also take some home if you like any.
This is just a glimpse of the things you can do and the places you can see in Thailand. With around thousands of islands in this country, you are literally spoilt for choice. Nevertheless, whatever you choose, you will definitely have a great holiday in this beautiful land.