Northern Thailand is home to a UNESCO World Heritage Site rich in history: Sukhothai Historical Park. It was the seat of power for the Sukhothai Kingdom, considered by many to be the origin of Thai culture and civilization, which flourished there between the 13th and 15th centuries. Visitors can explore Thailand's rich cultural history by exploring the park's collection of ancient temples, stupas, and other architectural marvels. In this travel guide, we will go over the attractions of the Sukhothai Historical Park and offer advice for making the most of your time there.
Sukhothai Historical Park Location
Sukhothai Historical Park is situated approximately 427 kilometers north of Bangkok.
How to Reach Sukhothai Historical Park?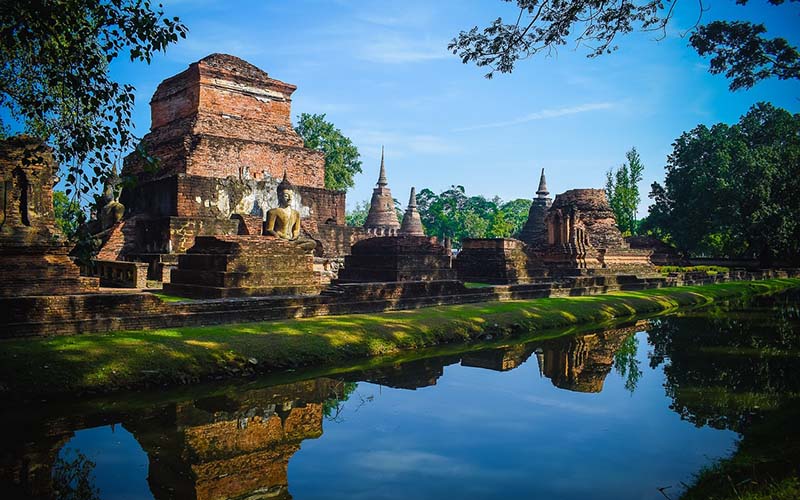 Daily flights depart from Bangkok's Suvarnabhumi Airport to Sukhothai Airport, making air travel the most convenient option for getting to the park. The historical park is a short tuk-tuk or taxi ride from Sukhothai town, which can be reached by train or bus from Bangkok.
Areas of Sukhothai Historical Park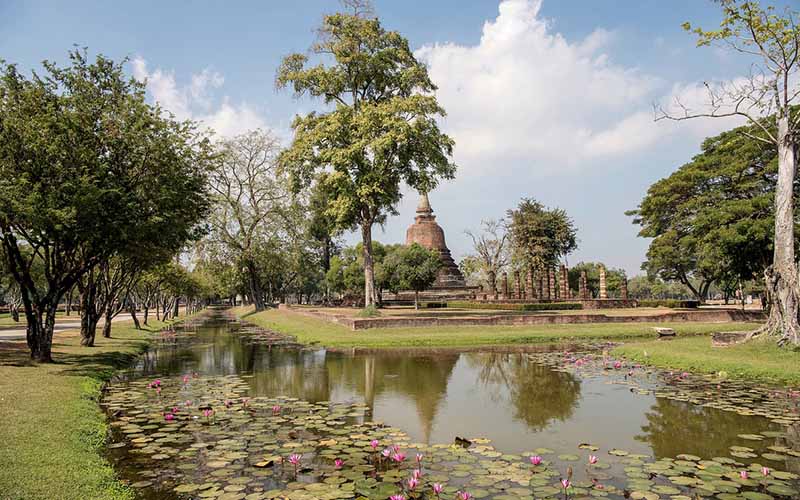 The park's layout consists of five distinct areas, the most popular of which is located in the park's geographic center. The landmark Wat Mahathat, with its magnificent standing Buddha statue and elaborately carved stupas, can be found in the heart of the city. Wat Si Sawai and Wat Sa Si are two other significant temples in the area. Further ancient remains and architectural marvels await discovery in the northern, eastern, western, and southern zones.
Activities in Sukhothai Historical Park
1. Bicycle Rentals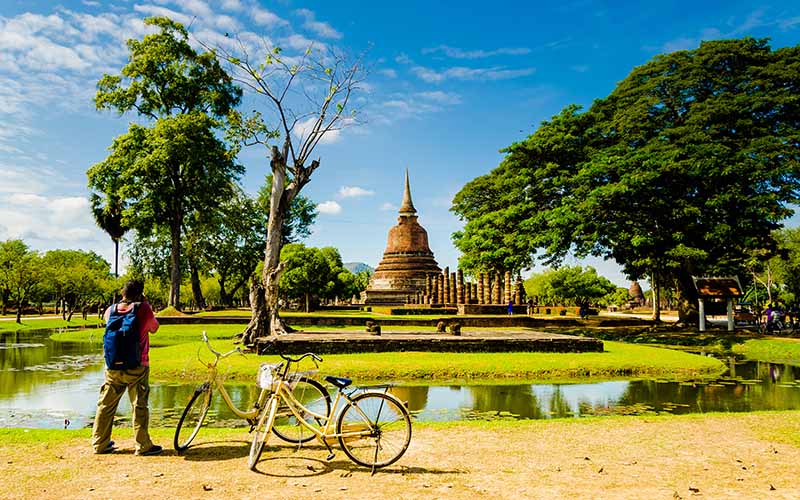 A great way to see all of Sukhothai Historical Park's expansive grounds is on two wheels. There are a number of businesses and inns near the park's entrance where you may rent bicycles. Taking a bike ride through the park is an amazing way to see the sights and get some exercise, plus you can stop whenever a temple or stupa catches your interest.
2. Go Temple Hopping
As you pedal through the park, you'll come across many historical sites, including temples. Take your time and get to know them all; they each have quirks and histories worth discovering. Be amazed by the old Buddha statues, beautiful architecture, and tranquil setting. One of the most recognizable symbols of Sukhothai is the enormous seated Buddha statue at Wat Si Chum.
3. Admire the Sunset Views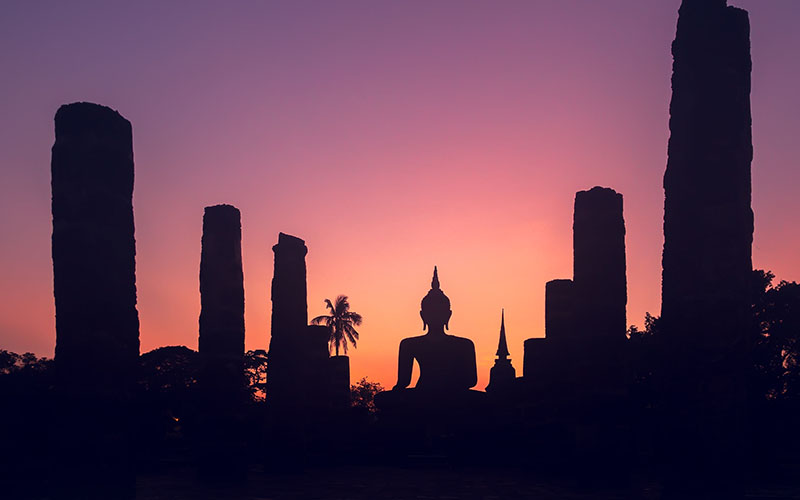 One of the most mesmerizing activities to do in Sukhothai Historical Park is to watch the sun go down from Wat Mahathat. The Buddha statue in the temple is especially impressive against the setting sun's brilliant colors. Get there to claim your space ahead, then relax and enjoy the calm as the sun sinks below the horizon.
4. Explore the Ramkhamhaeng National Museum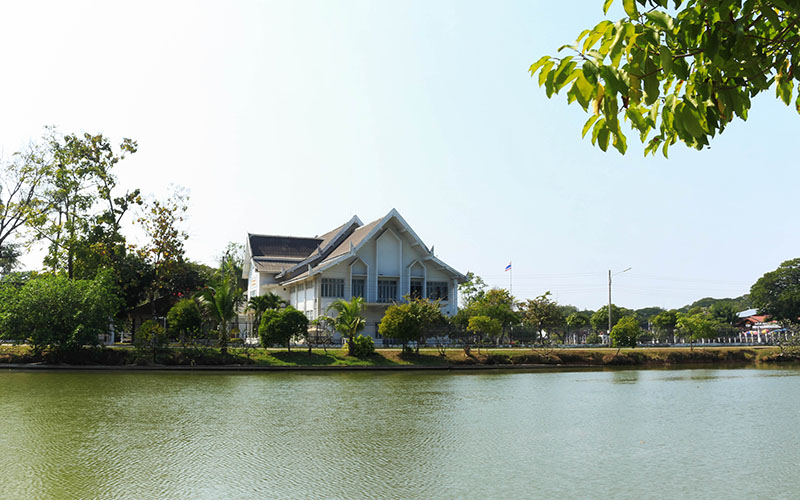 Located close to the park's entrance is the Ramkhamhaeng National Museum and Information Center, where you may learn more about Sukhothai's history and significance. Amazing relics and displays provide insight into the history of the former kingdom and its legacy. Maps, brochures, and knowledgeable guides are all available in the Information Center.
5. Go for a Food Tour
Enjoy the native food after a day of sightseeing to round out your trip to Sukhothai. The famed Sukhothai noodles are only one of the many excellent Thai foods available in the town of Sukhothai. Authentic flavours and traditional delights can be found at the local markets and street food carts.
6. Visit Wat Phra Phai Luang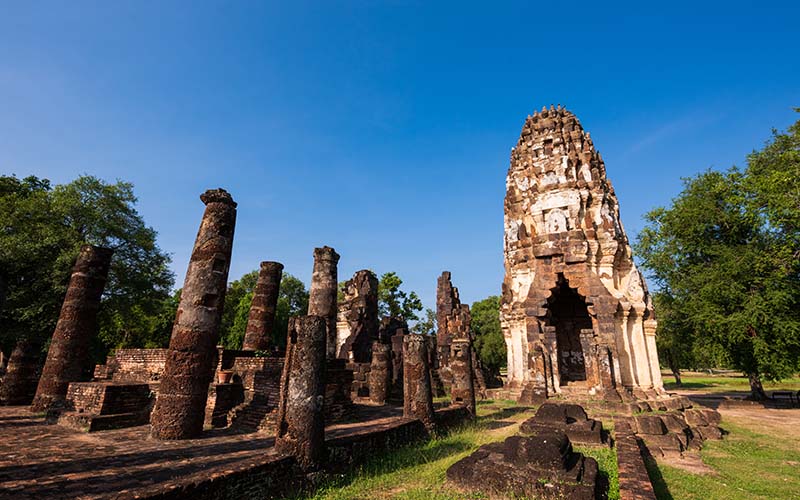 Wat Phra Phai Luang, located in the northern region near the Sanluang gate, is famous for its beautiful seated Buddha statue and lotus pond. Built in the 12th century by Khmer, this is one of the largest temples in the country. The complex has an assembly hall, a brick stupa, and Mandapa.
7. Take a Guided Tour
Consider signing up for a guided tour if you want to learn in-depth about the significance of Sukhothai and its history. Expert guides may enrich your visit to a park with interesting anecdotes and background information about its history and geography. They can also provide fascinating stories and insights into the temples and ruins.
8. Enjoy Light Show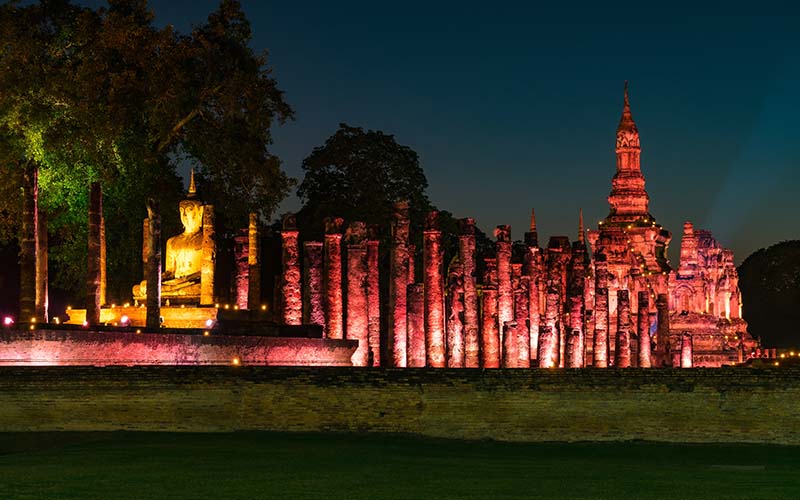 Check out the evening light and sound show at Sukhothai Historical Park, which uses projections and narration to bring the old city to life. The action zone lies in or near the city's historic core, offering a fresh viewpoint on Sukhothai's culture and background. Be sure to book your tickets in advance and review the show's schedule.
9. Celebrate Loy Krathong Festival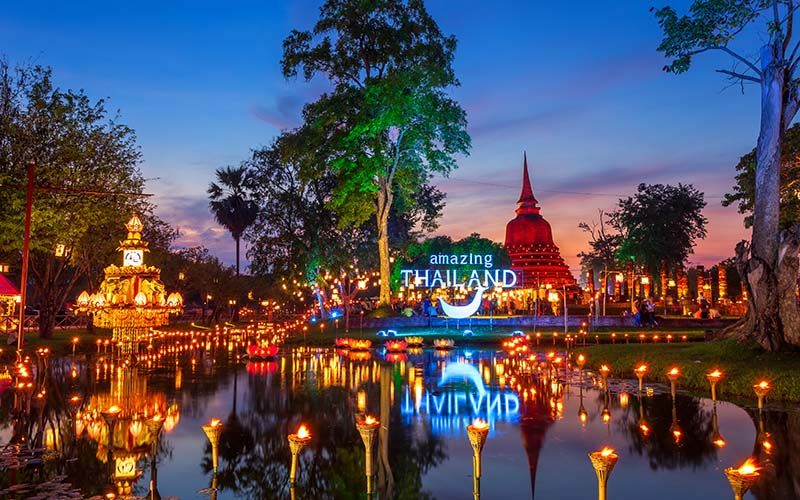 If your trip falls on or around the time of the Loy Krathong Festival, you are in for a real treat. To honor the spirits of the water, Thais release colourfully painted baskets into rivers and other bodies of water during the November holiday of Loy Krathong. This celebration thought to have originated in ancient Sukhothai, is one of the most fascinating in all of Thailand. There is something enchanting about being surrounded by ancient ruins at night as candlelight dances off the lake.
10. Buy Handmade Goodies
While in Sukhothai, do not miss out on the chance to buy something handmade by a local craftsman. Intricate wood carvings, ceramics, and textiles are just a few of the traditional handicrafts for which the town is famous. See local artists at work and pick up some one-of-a-kind keepsakes that pay homage to Sukhothai's storied past by visiting some of the city's many shops and workshops.
FAQs
1. What is Sukhothai Historical Park?
The Sukhothai Historical Park in Thailand's Sukhothai Province is recognized as a World Heritage Site by UNESCO. This historic metropolis served as the heart of the powerful and prosperous Sukhothai Kingdom in the late 13th and early 14th centuries CE. Over 190 temples and other buildings have been discovered throughout the park's 70 square kilometers of space.
2. When visiting Sukhothai Historical Park, how long should you plan to spend there?
The length of time you spend in Sukhothai Historical Park will vary based on your interests, how quickly you want to sightsee, and the weather. While most tourists spend little more than half a day in the park's core, individuals interested in venturing to the park's fringes or signing up for a guided tour may easily spend two or more days there.
3. When would you recommend visiting Sukhothai Historical Park?
November through February, the cool and dry season, is the finest time to explore Sukhothai Historical Park. The weather is temperate and pleasant at this time of year, making it perfect for outdoor pursuits. However, the park could be busier than usual due to the high volume of visitors. The months of June through September are wet and more relaxed than the months of March through May.
4. Should I have a tour guide if I want to go to Sukhothai Historical Park?
Though it is not required, hiring a guide to show you around Sukhothai Historical Park is highly recommended. A guide will be able to tell you all about the temples and ruins, explain their significance, and reveal any secrets you may have missed along the way. You can rent audio guides and guidebooks at the park's entry if you would instead go at your own pace.
5. While planning a trip to Sukhothai Historical Park, what should I pack?
Visitors to Sukhothai Historical Park are asked to dress politely and modestly, as befitting a visit to a sacred site. Avoid wearing revealing or tight-fitting clothing, and make sure your shoulders, upper arms, and knees are covered. There is a lot of walking to be done in the park, so sturdy footwear is highly recommended. A powerful sunscreen, a hat, and plenty of water are also vital, especially in the warmer months.
Conclusion
You may get the most out of your time in Sukhothai Historical Park if you follow this advice and investigate the recommendations given. This UNESCO World Heritage Site is the perfect place to lose yourself in the rich history, take in the breathtaking architecture, and make memories that will last a lifetime.