Bangkok is a city that you can easily fall in love with- be its nightlife, culinary or religious approach. Talking about the abodes of spirituality, we mention the top temples in Bangkok which are both famous and beautiful.
The Thai capital has a unique array of things to do and see- magnificent monuments, world-famous markets, diverse culinary and impressive art and the maze of lanes. In this vibrant lifestyle, what remains static and pleasing are the wats (temple).
Bangkok is rich in the display of a wide range of temples all over the place. Scratch Bangkok's surface and you will be mesmerised with the 400 plus temples to explore, pray and bow. From the enormous reclining Buddha to the 37 iron slender iron spired Loha Prasat, the city embarks on a new religious travel story.
You are fortunate that most of the best temples in Bangkok are built around the Grand Palace and will not take much time to explore. Read about them here-
1.Wat Phra Kaew- The Temple of Emerald Buddha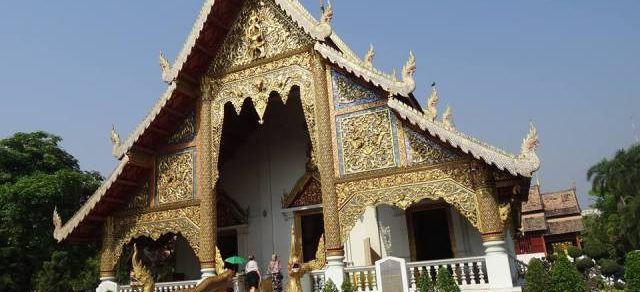 When you see an extraordinary attraction in Bangkok that defines golden spires, intricate designs and colourful structures, you should readily recognise this is the most famous temple in Thailand with the religiopolitical symbol, Wat Phra Kaew. Located in the area of Grand Palace and dated back in 1784, the temple stays as the holiest place in the country.
What makes it unique- the tiny emerald Buddha with a height of 26 inches, seated in a yogic posture. Well, it's not exactly emerald but is it's carved from jade or perhaps jasper. If you want to devote to divinity, if you want to discover the history of Bangkok or if you want to start the tour with a bang, there is nothing better than the Wat Phra Krew.
Opening time:

8.30 to 15.30

Entry fee:

400 baht
2.Wat Pho- The Temple of Reclining Buddha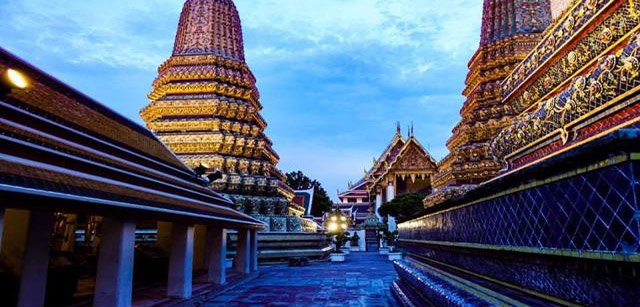 Unlike the mini statue in the previous, this Buddha's statue lies 46 metres long and 15 metres high, along with hundreds of other Buddha images. With a very peaceful symbolisation of happiness and showcasing the phase of Buddha training Nirvana, the temple stays the oldest and largest. It is also great place to get the authentic Thai massage.
Opening time:

Daily 08.00 – 17.00

Entry fee:

100 baht
Also Read:5 Day itinerary to explore the best of Bangkok
3.Wat Arun- The Temple of Dawn
On the opposite shore of Wat Pho, stands a building with five prangs, or towers overlooking the Mae Nam Chao Praya, referred as Wat Arun. Named after the Indian God, Aruna (personified as the light of the rising sun), the temple represents the centre of the world in Buddhist cosmology. Initially, the reclining Buddha stayed here but later shifted to what is now called as Wat Pho. It features steep steps and Khmer-style spire- the temple is made of colourfully decorated spires and is established impressively over water.
Opening time:

Daily 08.30 to 17.30.

Entry fee:

100 baht
4.Wat Saket- The Temple of the Golden Mount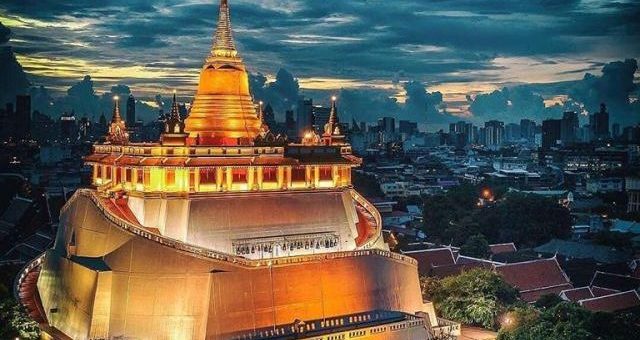 Constructed atop an artificial hill, Wat Saket is home to several Buddhist paintings. The golden mount which is crowned with a gleaming gold chedi is distinct as it rises above the rest of the temple grounds. Within the 58-metre chedi is the Buddha artefact and you can come here all year round; especially during November when a week-long fair is organised with pomp and show. The temple homes old trees, unique Buddhist structures as the main chapel, ordination hall and library.
What makes this place more gorgeous is the calm and composed panoramic view of Bangkok. While walking up the steps you can discover several viewpoints and resting areas, making the journey fun-filled.
Opening Time:

9.00 to 17.00

Entry Fee:

Free
5.Wat Traimit- The Temple of Golden Buddha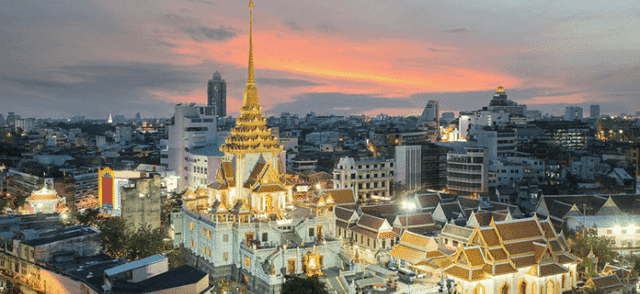 Located at one end of Chinatown. The Wat Traimit is a remarkable beauty in gold and whites. The main landmark of this temple is almost six-ton, 3-metre high, solid gold Buddha statue, making it the largest of its kind in the world. The story behind this statue is quite interesting- the golden Buddha was actually found accidentally when it was unintentionally dropped while being moved. You can still discover pieces of plaster on display.
Opening Hours:

09.00 – 17.00

Entry Fee: 40 Baht (until you want to visit the museum at 100 baht)
6. Wat Suthat- The Temple of Giant Swing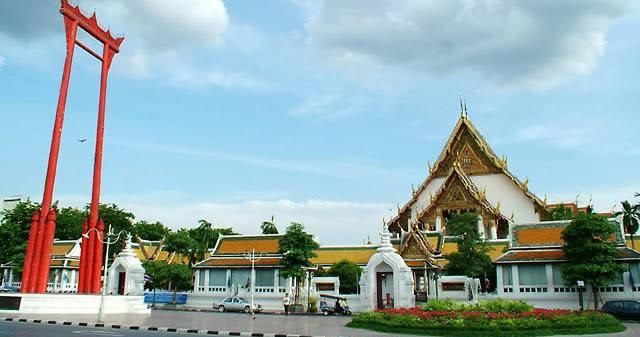 When you are strolling on the Bamrung Mueang Rd and are shook by seeing the towering and giant red swing, you are by the Wat Suthat. This is one of the oldest temples you would ever see. Boasting decorative wall murals, sweeping roof, Chinese stone sculptures and elegant handmade door panels made of teakwood, the temple is an example of extraordinary craftsmen. There are 156 Buddha images, 24 incarnations of Buddha and eight-tier hexagonal pagodas along the outer walls and doors.
Opening Hours: Daily 08.30-21.00
Entry Fee:

20 Baht
7.Wat Ratchanatdaram Woravihara- The Metal Castle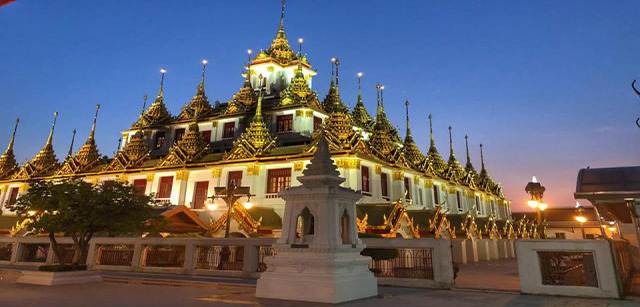 Located at a walking distance from Wat Saket, Loha Prasat is a devotional Buddhist temple built by the King Nangklao (Rama III) in 1846 for his niece – Mom Chao Ying Sommanus Wattanavadi. It is an outstanding architectural marvel – a height of 36 metres, supported by 37 metal spires and a roof of bronze tiles. What's interesting is the 37 spires embodying 37 virtues of enlightenment. Also, the temple has geometrically aligned pillars making it a rare experience.
Opening Hours:

08.30 – 16.00

Entry Fee: 20 Baht
8.Wat Mahathat- The Temple of the Great Relic
Build during the period of Ayutthaya Kingdom and apparently a home to a relic of the Buddha, the temple is tucked away on the earth with a confusing surrounding of schools, offices and other buildings. Not just the oldest shrine of Bangkok, but Wat Mahathat is also the centre for the study on Buddhism and taking meditation classes. The courtyard looks packed with tall palm trees, statues and relics. It offers satiation to photographers with the artistic Buddha head embedded into a tree trunk.
Every Sunday, near the temple, the Bangkok's largest amulet market is organised with religious amulets, talismans, charms, and traditional medicine in a huge assortment that promises good luck.
Opening Hours:

08.30 – 17.00

Entry Fee:

50 Baht
A.Bangkok Temple Etiquettes
Bangkok is a modern cosmopolitan city and there are no rules when it comes to what you want to wear unless you have decided to visit a temple or royal place. For the first-timers, it might be surprising to see a long list of Bangkok Temples dress code. Take a look-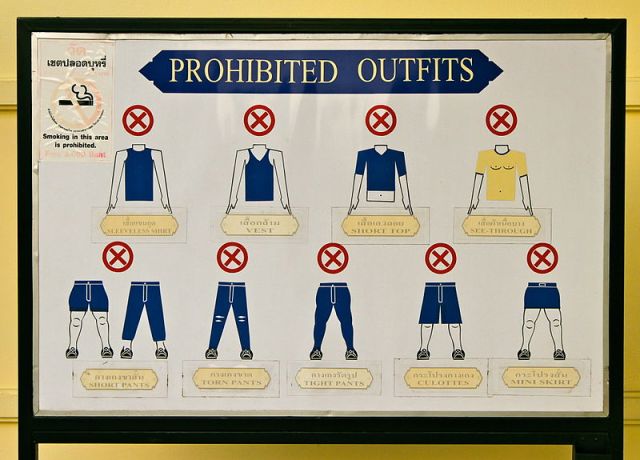 B.All about wear ethics:
Dress very modestly, avoiding any kind of stare looks from people.
Keep the swim shorts, tank tops, stretchy pants, clingy tops and sleeveless tees for the real party.
Do not show up in a clothing that reveals shoulder, knees or cleavage.
SHOES! Don a proper sandal or closed shoes, else you may be returned.
Remove hats, sunglasses and shoes while entering the temple.
Note: Of all the places, the Grand Palace Bangkok dress code is stricter. Men should come in long pants and full-sleeved shirts while women should avoid see-through clothes, bare shoulders, etc.
C.How to stand, sit and walk?
Don't walk like you own the temple, crouching down a little or walking in stooping posture is more polite.
While you pray, try kneeling down or sitting in 'mermaid' posture keeping your feet away from the statue.
Make sure that your feet are not pointed towards anybody or the Buddha statue as it is counted an offensive.
Keep following for better insight of Bangkok traveling.