Thailand is a pioneer in romantic dates with restaurants that help you enjoy and be immersed in the delicious flavors that world-renowned chefs have to offer. Not only that, but they also provide you with an experience that ranges from ambiance to stunning views. In short, an experience you will not forget. Hence, they are on the list of the top most romantic restaurants in Thailand.
Most Romantic Restaurants in Thailand
1. Black Ginger – The Slate – Phuket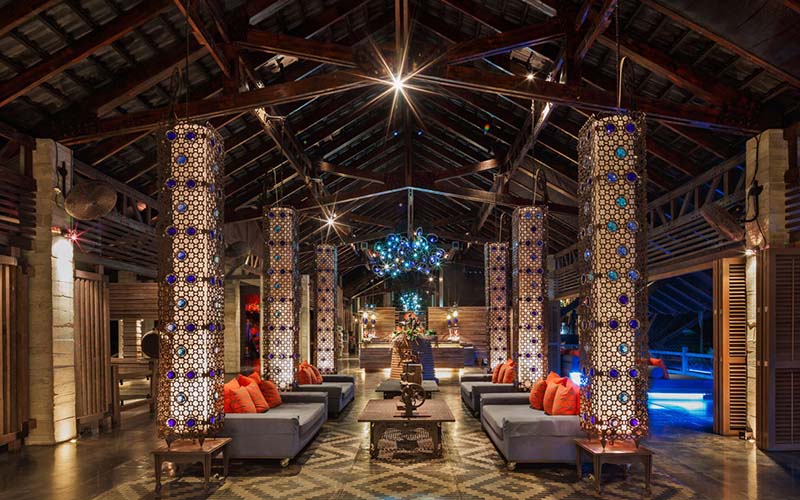 Image Credit:  theslatephuket.com
When you arrive at The Slate resort in Phuket, you will be gently floated over a torch-lit lagoon to a traditional teak pavilion. Take a seat inside, which is lit by exotic chandeliers, or on the deck, which is surrounded by lanterns, and gaze out over the ocean. Chef Anongrat Meklai makes traditional southern Thai cuisine, which is served by wait staff dressed in traditional attire. Freshly caught seafood, sweet and spicy flavors, and locally grown organic veggies are all prevalent on the menu. Fish curry and whole grilled lobster are two of the restaurant's signature dishes.
2. Akira Back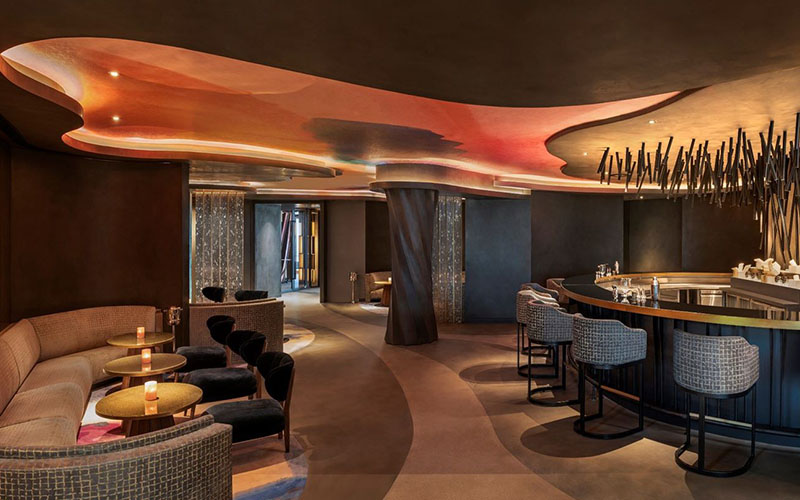 Image Credit: akirabackdubai.com
Bangkok's culinary scene is reaching great heights, and the upcoming gourmet industry award-winning Korean-American chef, Akira Back has also entered the competition. Introducing his restaurant, which is named after him, in Marriott Marquis Queen's Park hotel. On the 37th floor with a stunning view, Akira Back is offering mind-blowing Japanese, Korean, and western infused cuisines. The amazing combination of the food, ambiance and great service makes this place one of the top romantic restaurants in Thailand.
Placed on the 59th floor of the skyscraper hotel Banyan, with a million-dollar view, Bai Yun gives dining with class a whole new meaning. The reason for Bai Yun's long-running success is the modern twist to the cuisines offered. Moreover, to complement the food, the contemporary Chinese design and décor only add to the romantic experience of Bai Yun. Bai Yun makes sure that it does not give out the traditional Chinese restaurant ambiance. Therefore, the lighting and music in the restaurant is set to make the vibe dreamy and romantic at the same time.
4. Blue by Alain Ducasse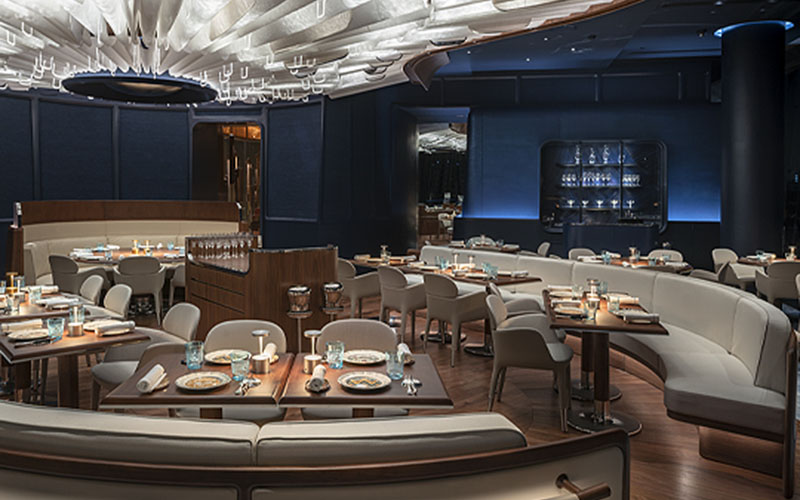 Image Credit: blue-alainducasse.com
Alain Ducasse, the international culinary superstar and chef-mentor to some of the world's most well-known cooks, has revealed Bangkok as his newest gourmet pleasures destination. ICONLUXE, ICONSIAM's luxury retail zone, is home to Blue by Alain Ducasse, a world-class culinary destination. It serves outstanding French cuisine filled with the legendary chef's signature grace and finesse. Blue by Alain Ducasse is a one-of-a-kind dining experience with exquisite tastes, painstakingly selected ingredients, excellent service, and unrivalled views of the Chao Phraya River.
This restaurant is on this list for several reasons, including an appealing welcoming lounge, a beautiful main dining room by the moonlit Chao Phraya River, exceptional French cuisine, and a Michelin one-star distinction. All of these factors will contribute to a memorable date night.
5. Bull & Bear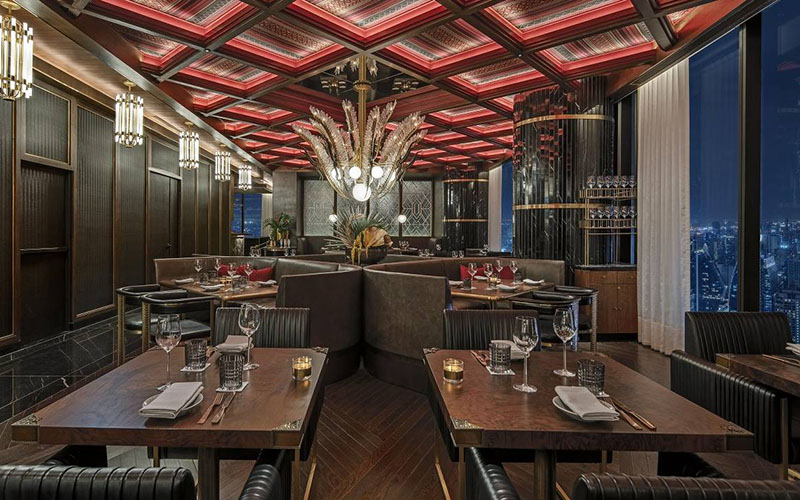 Image Credit: resizer.otstatic.com
From the sleek black décor to the conspicuous feather-like chandelier, this Waldorf Astoria restaurant, inspired by New York's Wall Street, is bursting with Big Apple thrills. Put on a tuxedo and a gorgeous black gown for a night to remember.
At the Waldorf Astoria Bangkok, the legendary steakhouse that used to be the gourmet pride of the institutional hotel brand's New York headquarters, has been brought back to life. The now-defunct New York steakhouse Bull & Bear had a long-standing reputation for providing some of the best steaks in the city. The "Big Mango" now has access to the new Bull & Bear in Bangkok, which offers excellent grilled meats, impeccable service, and million-dollar views of Bangkok's glittering city.
6. Chef's Table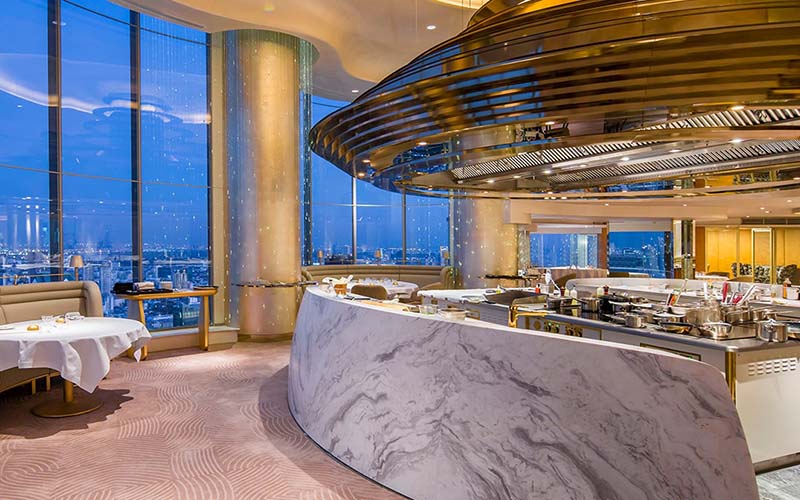 Image Credit: lebua.com
It is gold, it is exquisite, and securing a seat at this two-Michelin-star restaurant will be difficult—but don't give up. Make a mental point to add this to your dating bucket list. A live cooking demonstration will create a cinematic experience once inside, while scrumptious meals will assure a full stomach.
Chef's Table, the newest addition to the Lebua hotel's upscale dining options, dazzles in every way a fine dining establishment should. The fact that it is on the 61st floor and operated by a chef who formerly worked at a three-Michelin-star establishment is the icing on the cake. It is a really sweet icing, to be specific.
Chef-d'oeuvre Vincent Thierry, a native of the Loire Valley, is no stranger to the fine-dining scene. He has worked at the famed Le Cinq Four Seasons Hotel George V in Paris and as head chef at the Four Seasons Hong Kong's Caprice restaurant, which was awarded three Michelin stars while he was in charge. Chef Vincent, with the help of sous chef Pierre Chomet, prepares French classics that rely on the flavours of locally sourced vegetables. The meats and other proteins are an exception because they are imported from Europe to maintain the required high level of eating quality.
If you tell your date that you will be going to an amazing French-Japanese restaurant, their mouths may drop, but informing them that it will be at Elements may make them drool. This one-Michelin-star restaurant features a sleek black décor, breathtaking views of Bangkok, and some of the best fine-dining fusion food the city has to offer.
Elements, inspired by Ciel Bleu, on the 25th floor of The Okura Prestige Bangkok, works in cooperation with The Okura Prestige Amsterdam's two-Michelin-starred restaurant of the same name. Ciel Blue is known for combining French and Japanese cuisines to offer a unique dining experience.
Elements' kitchen is presently run by Gerard Villaret Horcajo, a Spanish chef who formerly worked at Ciel Bleu in Amsterdam. Many of the dishes in the restaurant' new Spring Gastronomic Set Journey, which comes in three flavors: Ku-Ki Experience, Chikyu Experience, and Mizu Experience, highlight his love of nose-to-tail cooking.
8. Le Du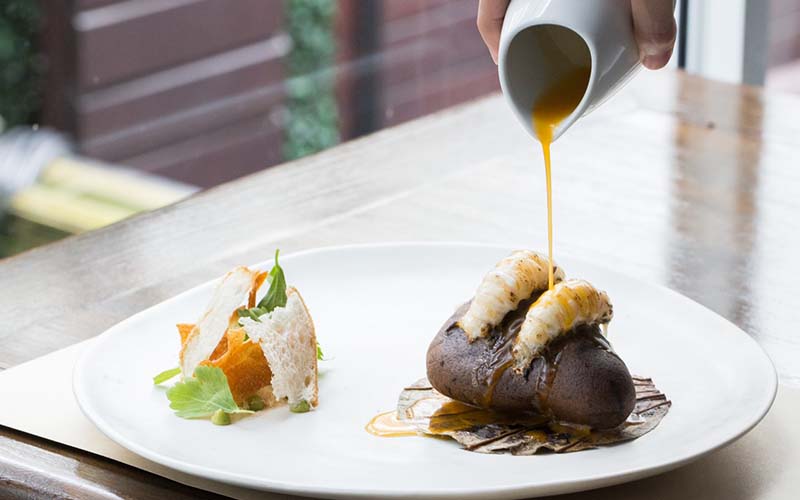 Image Credit: ledubkk.com
Although the name suggests a fancy French restaurant, Le Du's menu is influenced by Thai cuisine. Chef Ton is a graduate of The Culinary Institute of America and a veteran of some of the world's most prestigious kitchens. These top kitchens include The Eleven Madison Park and Jean-Georges, and Chef Ton opened Le Du in Bangkok in 2013, intending to redefine Thai cuisine. The second story of Le Du has just opened, with a softly lit contemporary eating space designed by Ekkasit Jaeng-again and more spacious chairs.
9. Medici
The Medici, where you may spend a passionate night with your loved one, is proof that Italians are masters of romance. You will be treated to a performance by FIVERR, Thailand's first pop-opera band, in addition to great Italian cuisine and a seductive environment.
This fine-dining establishment has long been one of our favorites for Italian cuisine, and it never disappoints. Even tried-and-true formulas need to be adjusted now and then, which is why Medici chose to revamp its menu. This time by combining the flavours and styles of food from France, Spain, and Italy to give a Mediterranean fare with a more contemporary twist. Chef Bart Cywinski is now in command of the kitchen, previously having worked at a variety of prominent restaurants across the world. This includes The Grill at The Dorchester in London and the Michelin-starred JAAN in Singapore.
Those who have dined at Medici previously will recognize the dark and dramatic neo-classical décor. For those who have not been, imagine The Great Gatsby's opulent splendour paired with a bar scene from any 1970s gangster film to get a feel of what to anticipate. Choose a seat near the brightly lit open kitchen if you want to see your dinner being made right in front of your eyes.
Conclusion
To sum it up these are the few places that guarantee you a lovely romantic experience, providing you the complete package of amazing food prepared by world-renowned chefs, amazing views, and ambiances that remains unbeaten. What more could you ask out of a restaurant that promises an unforgettable romantic experience?