Thailand is a country that you can holiday all year round despite its varied climate. November through the beginning of April is the ideal time to travel to Thailand. At this point, the rain stops and the sky become clear. The days here are warm and ideal for a trip to the beach or exploring the many historical sites. The oppressive heat starts in April, and the rainy season starts up again in June.
The pearl of Southeast Asia, Thailand, is also called the "Land of Smiles," and you will notice that people there will warmly welcome you as if you were an old friend coming home. The nation is developed enough to let you enjoy an opulent vacation in some of its most cutting-edge cities such as Chaing Mai and Bangkok. However, it still has enough of its original wildness to provide you with off-the-beaten-track vacations that will give you once-in-a-lifetime experiences.
Thailand is an exotic, never-ending potpourri of rare experiences which will leave you wanting more. It has mountains, beaches, islands, as well as everything in between. Thailand offers you a lot to see and enjoy, regardless of whether you are travelling there with family or friends.
Visiting Thailand in the Summer Months
The summer months in Thailand are between March and July having an average high temperature of 34 degrees and a low of 30 degrees.
Although Thailand may view the summer as a low season, many students and backpackers prefer to travel during this time. The nights in summer season are muggy and the days are hot, with a light breeze in the evenings. Since it deters many visitors, Thailand's dry season is actually the best time to find fantastic deals on lodging and tour packages. It is good to visit Thailand during this season as the hotels are willing to give you discounts and better offers than they would during the high season because there are fewer tourists.
---
Also Read: Summer Attraction In Thailand
---
The majority of public celebrations and festivals occur in the summer. Similar to Holi in India, the Songkran Festival celebrated in April is basically a riot where people splash each other with water. Get your water gun, do not forget! After you finish playing, you can relax and take in the numerous cultural events and exquisite processions that pass through the streets. Enjoy mouthwatering fruit dishes at Chantaburi's Fruit Day, which is held in May and June. When you are full, you can unwind and take in the soothing sounds of music in the beautiful Hua Hin Jazz Festival celebrated in June, which features both local and foreign performers.
As the weather is too hot, it is advisable to wear loose, airy clothes, slather some sunscreen while stepping out, and most importantly stay hydrated as much as possible.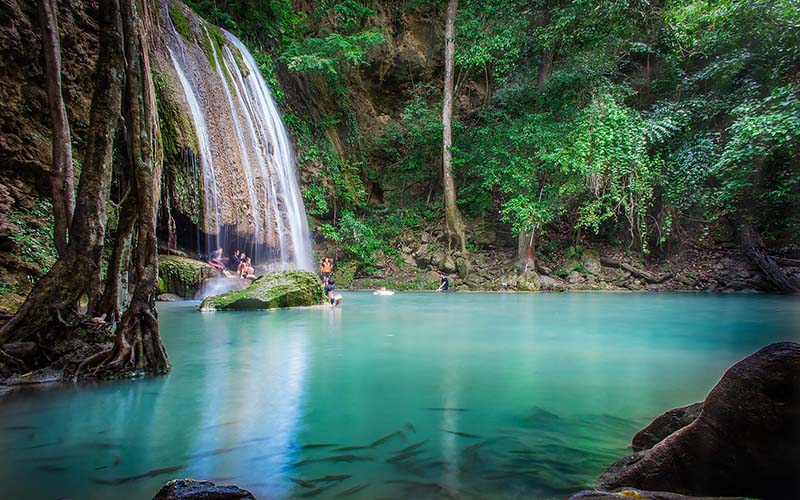 Visiting Thailand in the Monsoon
The wet season or monsoon in Thailand takes place between July to October where the average high temperature is 29 degrees and low is 23 degrees.
In Thailand, it truly pours when it rains. All of the water in the skies is released as the skies open up. And they practically never stop for four months. This is an ideal time to go if you enjoy the monsoon and walking around in the rain. Take our advice and go somewhere else if staying dry and comfortable is more in line with your idea of a vacation, unless—and there is a crucial unless—you prefer to travel in areas with less tourists and have a tight budget. Fewer people travel to Thailand during the monsoon, leaving the country to yourself. In addition, prices for travel and lodging have significantly decreased since the peak tourist season. If you are touring on a limited budget and seeking out great deals, Thailand's wet season weather is ideal.
Thailand celebrates two birthdays during the wet season: the King Maha Vajiralongkorn's birthday, which falls on July 28, and the Queen Sirikit's birthday, which falls on August 12 and is also observed as Mother's Day in Thailand. Both of these occasions animate the nation with cultural performances, a candlelight ceremony, and occasionally even fireworks.
For best results, carry an umbrella, raincoat, and rainy shoes. The water in the beach during monsoon will be too choppy so just sit beside the beach and gaze the rainwater lash the engorged sea.
---
Also Read: Top Romantic Places to Visit in Thailand
---
Visiting Thailand during Winter Months
The winter months in Thailand are from November to February where the average high temperature is 32 degrees and low is 18 degrees.
Thailand is best visited in the winter, without a doubt. The temperature during winter is moderate and the monsoon has passed. The days are sunny and dry, making them ideal for sightseeing or simply lounging on the beach. Thailand, however, gets crowded in the winter, as is customary with any tourist spot with improving weather. However, this does not lessen the allure of the location because in Thailand, more is better. If you stay near the coast, the climate is warm and comfortable. However, the nights can get chilly if you are travelling higher in the mountains or farther inland, so you should bring a lightweight sweater or shawl to ward off the chill. Thailand's ideal weather is available to you in the winter. It is the best time of year to travel to Thailand because of the sun, the dry weather, the surf, and the low humidity.
Thailand's winter is a peaceful season. There are holidays like Christmas and New Year's, but other than the King's birthday, there are not many national celebrations. The Thai King's birthday, which falls on December 5, is a national holiday. The main festivities take place in Bangkok, where the streets are filled with pageantry, candlelight vigils for a king's long life, and, if his health is good, an appearance by the king himself. You can go back in time for the Chinese New Year until January/February if you are curious. Since it rests on a lunisolar calendar, the date is subject to change each year. Is the wait worthwhile? Absolutely! It is a unique experience with lion dances, parades, stage shows, as well as lots of fireworks.
Winter being a peak tourist season, it is highly advisable to book tickets and accommodation well in advance to stop getting disappointed. Again apply some sunscreen before stepping out as the weather is dry and warm during the day and cold at night.
Final Analysis
When you are organizing a trip to Thailand, the proverb, there is an accurate time for everything, does not hold true. Since Thailand is beautiful all year long, there really is not a bad time to travel there.
---
Also Read: Good to know' Advice while Travelling to Thailand
---