Thailand is adorned with dense forests, sun-kissed beaches, unexplored islands, heritage sites, colorful temples, luxury resorts, and delicious food. Often known as the 'Land of Smiles, Thailand is one of the most visited destinations in Southeast Asia. It strikes a wonderful balance between modern attractions and historical sites, making it an excellent family vacation place. We have created a list of some of the most fantastic summer attractions that you can find in this beautiful country. Keep reading to know what they are.
Know the Exciting Summer Attractions in Thailand 
The Grand Palace
The magnificent Grand Palace is one of the most famous landmarks in Thailand. The palace used to be the residence of the King, the Government of Thailand, and the Royal Court for more than 150 years. Situated in Bangkok, this striking structure looks extravagant with intricate architecture and is a sight to behold. There is a strict dress code to visit the palace, and both men and women should dress modestly while visiting this place.
Sukhothai Historical Park
The 13th-century ruins are regarded as one of Thailand's most important historical sites. It is a UNESCO World Heritage Site and is thronged by thousands of tourists every year. The park consists of 21 historical sites and four large ponds within the ancient walls. Sukhothai temples' architecture resembles a classic lotus-bud chedi, with a conical spire sitting on a square-sided structure on a three-tiered base. The bell-shaped Sinhalese and double-tiered Srivijaya chedi are other important highlights here.
Bangkok City
Bangkok is a bustling city and one of Thailand's most exciting places to visit. It is brimming with massive shopping centers, incredible museums, splendid palaces, and exotic temples. You can also take a boat trip along the Chao Phraya River and enjoy the picturesque vistas around you. Don't forget to gorge on yummy street food that is highly famous here.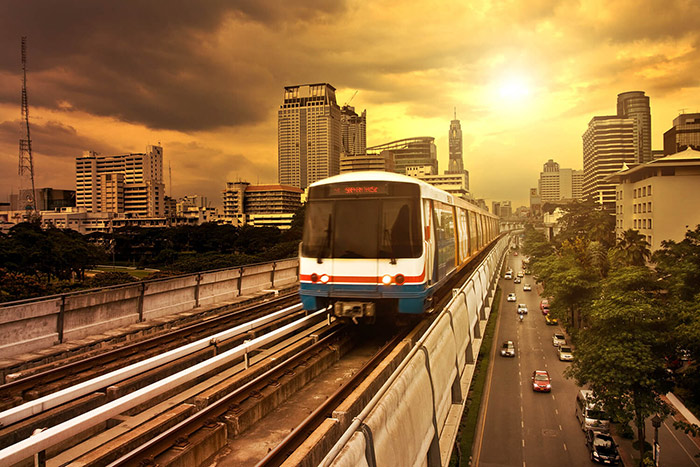 Khao Yai National Park
Khao Yai National Park offers a safe home to an array of enthralling wildlife such as Asian elephants, gibbon, porcupine, black bears, sambar deer, barking deer, and many more. You can even find dinosaur footprints here, which is a fascinating experience. The park consists of campsites, observation towers, hiking trails, and accommodation facilities like cabins and lodges. Situated in the eastern part of Thailand, it also includes the famous Haew Suwat waterfall, featured in Leonardo DiCaprio's movie, 'The Beach.'
Ayutthaya
The historic city of Ayutthaya is an exceptional place to gain insight into the bygone days of Thailand. This ancient city was an integral part of Thailand's history until the Burmese army raided it. It is a UNESCO World Heritage Site located on an island surrounded by water on three sides. The temple complexes and ruins look mesmerizing, and you can spend a few hours exploring them. The main highlights of this place are a Buddha idol with its head wrapped around tree roots and a 12-meter-long reclining Buddha.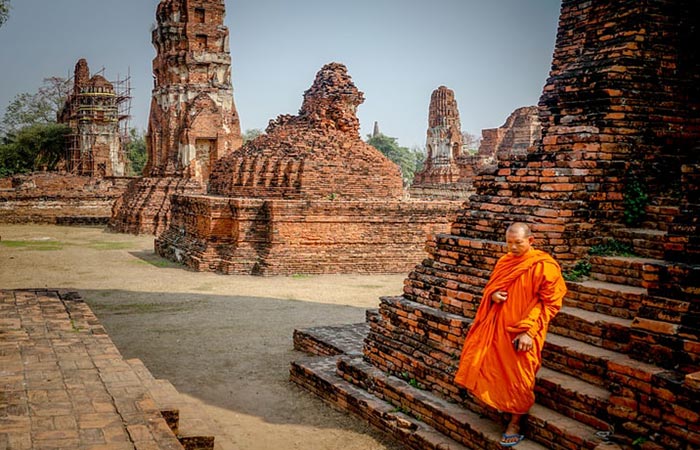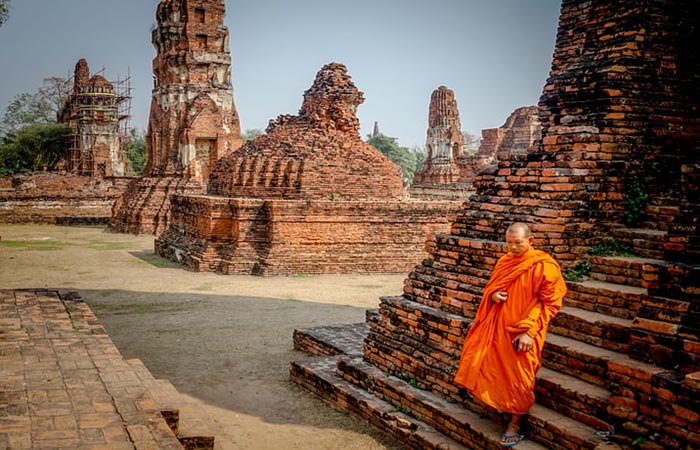 Bo Sang Umbrella Village
The Bo Sang Umbrella Village is a 30-minute drive from Chiang Mai. It is famous for colorful handmade bamboo umbrellas, also known as parasols. You can watch the local women making these beautiful umbrellas and also buy these authentic pieces. They make for pretty gifts and unique keepsakes too.
Koh Tao
Also known as Turtle Island, Koh Tao is one of the best scuba-diving destinations in the country. It is surrounded by white sandy beaches and the turquoise water of the Gulf of Thailand. Don a wetsuit and jump into the crystal clear waters. See a variety of mystical aquatic beings, spectacular coral reefs, rocks, and creeks. The unparalleled beauty of the island will make sure that you return here again and again.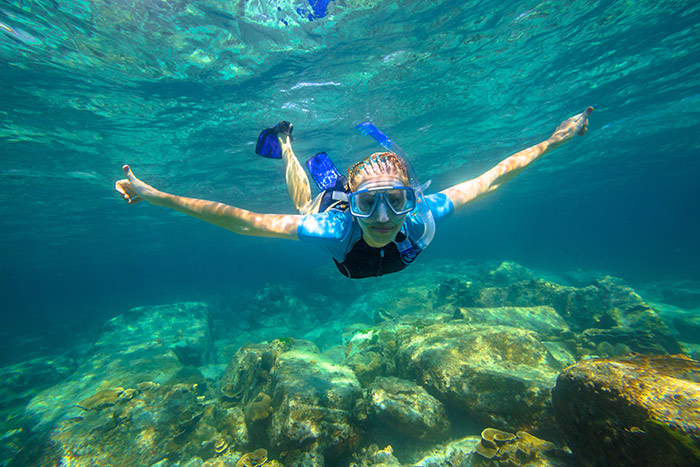 Kwai River Bridge Memorial
Also known as Kanchanaburi bridge, the Kwai River Bridge Memorial was once supposed to be part of the Thai-Burma Railway. Unfortunately, it never saw the light of the day but has immense historical importance associated with it. The Japanese constructed the rail link to connect Burma with Bangkok during World War II. But sadly, due to repeated bombings and other damages during the war, thousands of allied prisoners of war and Asian laborers lost their lives. A daily train to Nam Tok Railway station is operational even today. However, though the route is scenic, it serves as a bleak reminder of the dreadful incidents that took place here.
Floating Markets
The floating markets of Thailand are one of the main highlights. You can book one of the day tours available for a glimpse into the history of these markets. It is the best place to buy an assortment of local products such as vegetables, coconut water, home-cooked food, tropical fruits, herbs, spices, and other knick-knacks.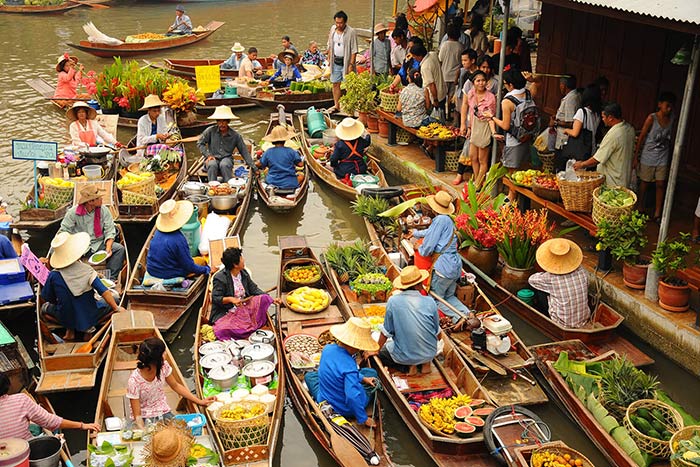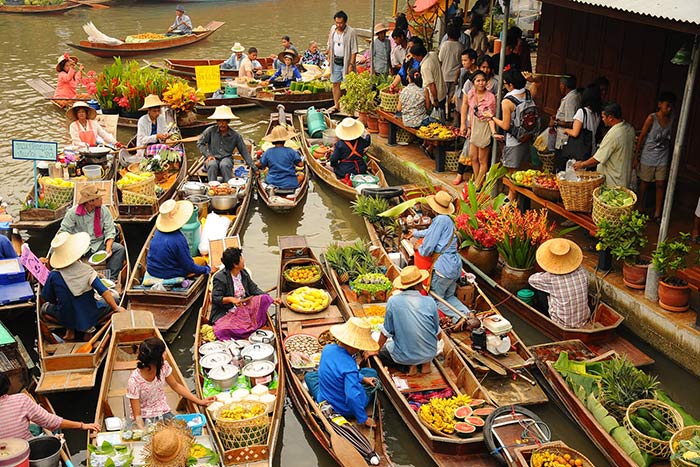 Conclusion
Thailand has endless attractions to be explored, and you will be spoilt for choice in this scenic country. Summer in Thailand is from June to August and it is also the monsoon season. You can experience myriad activities and make sure that you have an unforgettable holiday here.