Thailand is one of the most visited destinations in Southeast Asia and offers countless attractions to its visitors. This picturesque country has ample things to see, from stunning beaches and incredible wildlife sanctuaries to vibrant temples and unexplored islands. However, another extremely popular activity for tourists in Thailand is to indulge in some retail therapy. The country has many shopping places, from night markets and street markets to floating markets and shopping malls, that you are spoiled for choice. You can buy a great mix of silk, jewelry, antiques, clothes, and food items. Here is a detailed guide for the most amazing things you can buy in the "Land of Smiles."
Platinum Mall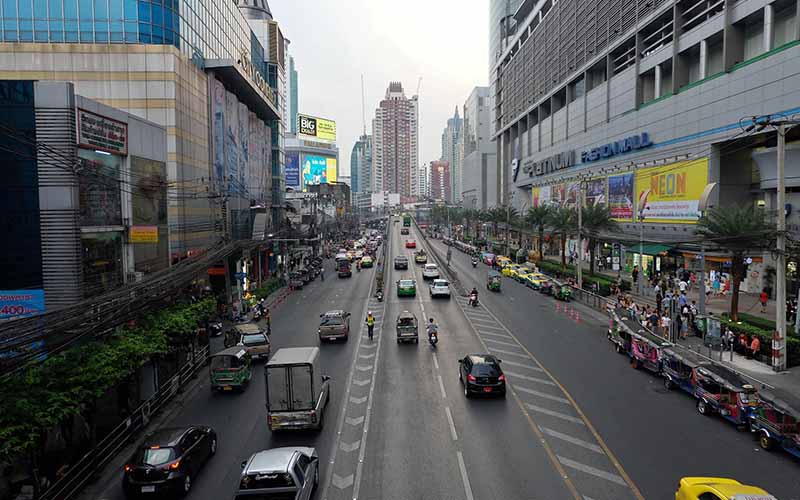 Platinum Mall is like a shopping center with over 1300 vendors packed in very little space. It is an excellent place to do bargain shopping, and you can buy dresses, tops, shirts, jeans, formals, skirts, shoes, bags, belts, cosmetics, leather items, etc., in various colors and sizes. You can also find a lot of imported products from Korea and Japan. They also have great offers and discounts during festivals and other occasions.
Chatuchak Market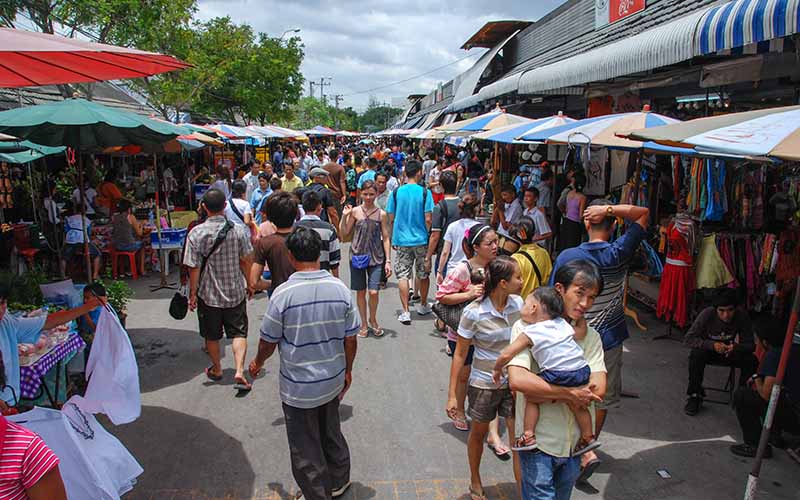 Chatuchak Weekend Market in Bangkok is a must-visit on a Sunday evening. The market houses more than 8000 shops with a bevy of products like furnishing, ceramics, vintage clothing, paintings, and other knick-knacks. It also consists of more than 500 food stalls where you can satiate your tastebuds after a tiring shopping trip.
Siam Paragon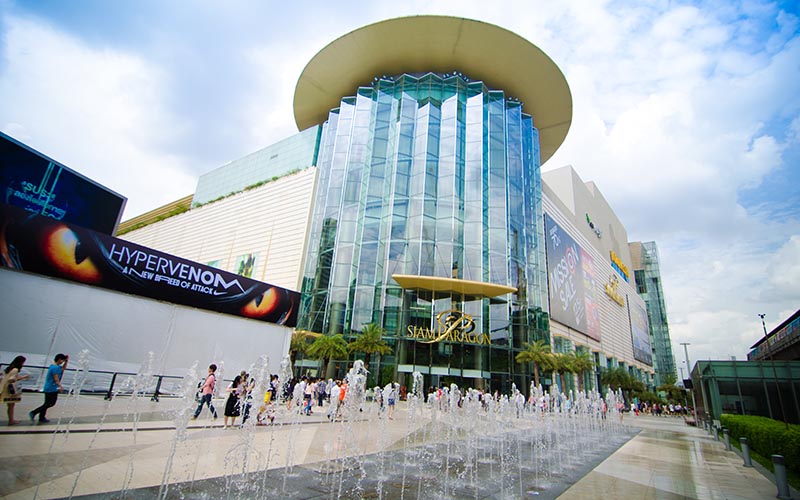 Siam Paragon is one of Bangkok's most famous shopping malls, with over 250 shops selling high-end fashion brands like Louis Vuitton, Mango, Versace, Gucci, and the likes. If you want to splurge on fashionable clothes and accessories, this is the place that you must head to. It also has bookstores, fitness centers, and the Exotic Thai store that sells all the unique souvenirs that you can get your hands on.
Pattaya Night Bazaar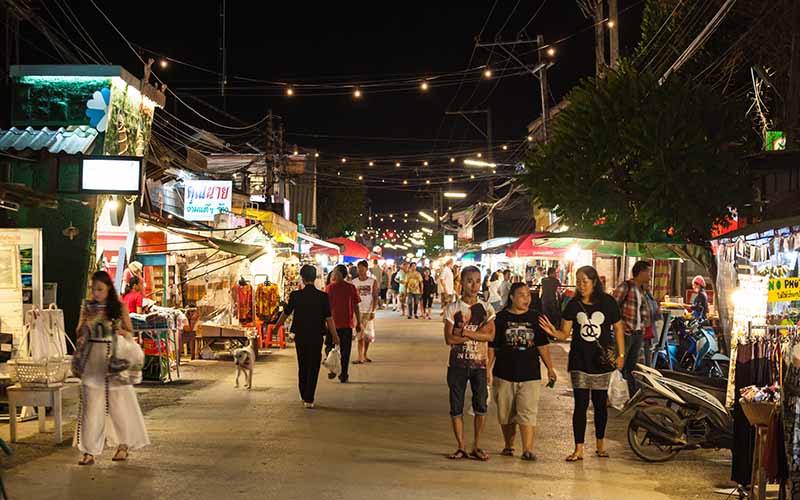 Pattaya Night Bazaar has come a long way from its humble beginnings as a small street market to the fully air-conditioned market of today. You will find an array of the usual street market products and some tailor shops and luggage stores. Its lively atmosphere and a wide range of products make it a fun experience to shop here.
---
Also Read: Things to Do in Pattaya 2022
---
Khlong Toei Market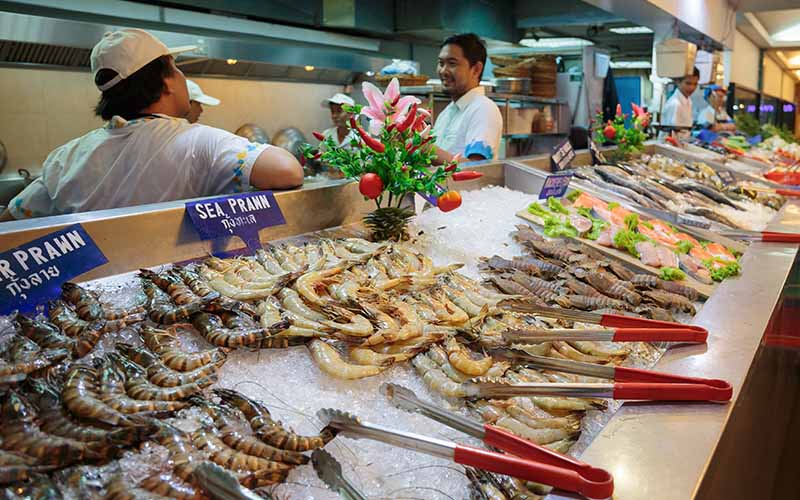 Khlong Toei Market is the largest fresh market in Bangkok. It was even listed as one of Bangkok's most authentic markets by CNN in 2010. Khlong Toei Market has a very laid-back environment, and you can shop for top-quality local staples like raw meat, seafood, farm produce, kitchenware and clothing items.
Damnoen Saduak Floating Market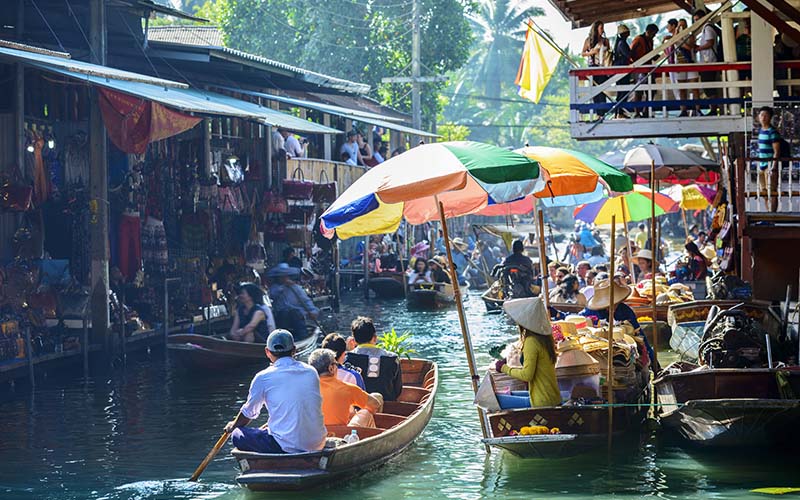 Damnoen Saduak is one of the most famous floating markets in Thailand that has been around for many years. It operates only in the morning from 7 am to 11 am but is the best place to shop for fresh local food items, like fresh coconut pancakes, fruits, herbs and spices, meaty noodles, dumplings, etc. This has become an institution and is on the bucket list of every tourist who visits Thailand.
Phuket Weekend Market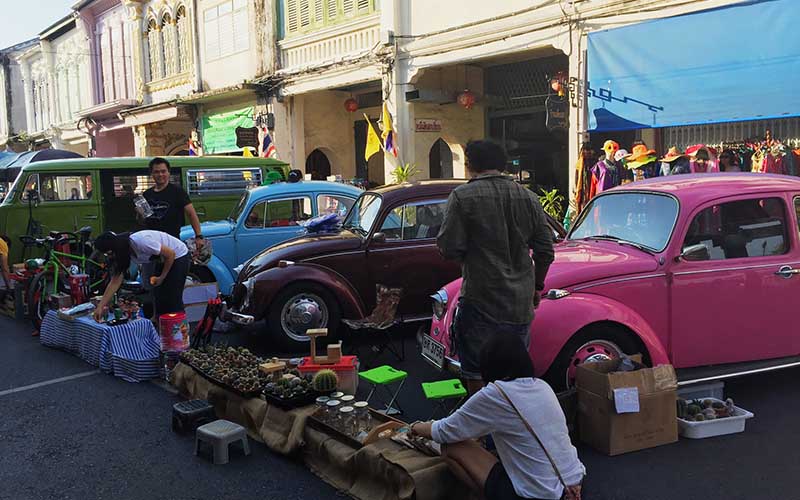 Image Credit: www.flickr.com
The huge Phuket Weekend Market is one of the significant places to shop in Phuket. It's segregated into two sections, one is an open section, and the other one is covered. The open section has everyday items like watches, shoes, bags, fashion accessories, etc., while the covered area has secondhand goods.
Chinatown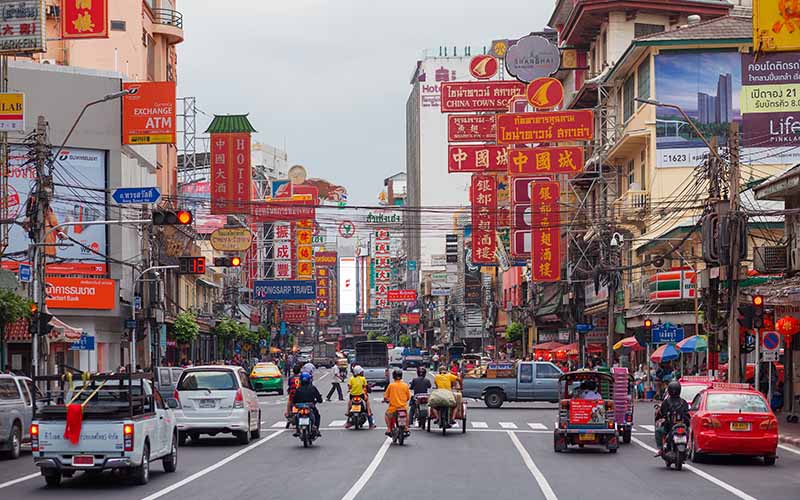 Chinatown Market is undoubtedly one of the most popular shopping destinations in Thailand. It resembles a big flea market with all the products under the sun, from clothes and fabrics, foodstuff and flowers to footwear and other trinkets. All the stores are divided into groups here for easy customer experience.
Rot Fai Night Market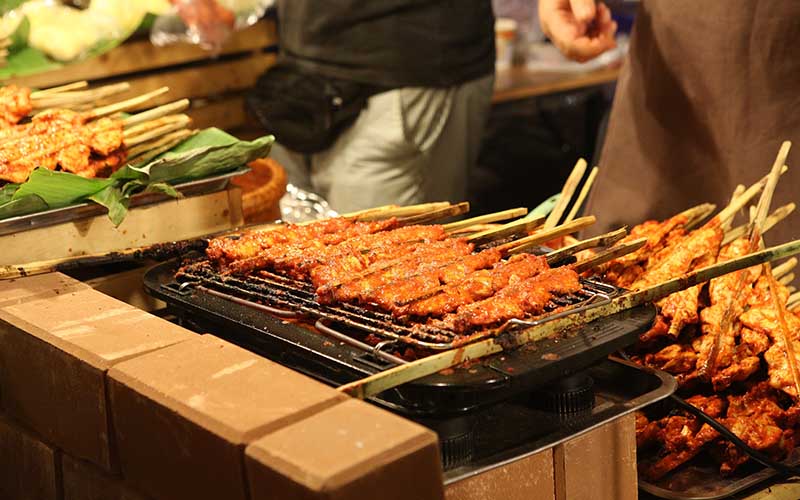 Rot Fai is a massive open-air night bazaar in Bangkok that combines shopping and entertainment options. The main attraction here is the mouthwatering street food that attracts people like a magnet. You can try an incredible variety of barbecue with sizzling meat, fried noodles, ice creams, fresh juices, foaming Thai iced tea, and coffee from the hundreds of stalls here.
MBK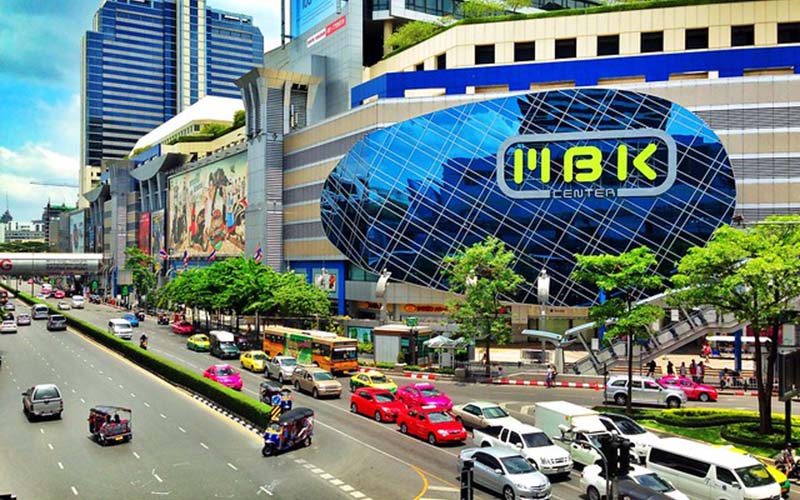 Image Credit: https://www.flickr.com/
With around 2000 vendors across different floors offering a great mix of products, this is a fantastic place to shop for independent Thai brands. It is trendy for all electronic devices like Mobile Phones, Laptops, USBs, TVs, Cameras, Printers, etc. One tip is to haggle as much as you can with the vendors, and we assure you that you will get things at reasonable prices.
Amphawa Floating Market
Amphawa Floating Market is another popular floating market in Thailand. You can find a plethora of shops scattered from the riverbank to the streets. Located on the Chao Phraya River, it is frequented by locals and has a very authentic Thai culture. You can sign up for a boat tour in the evenings and see fireflies which is a sight to behold.
Central World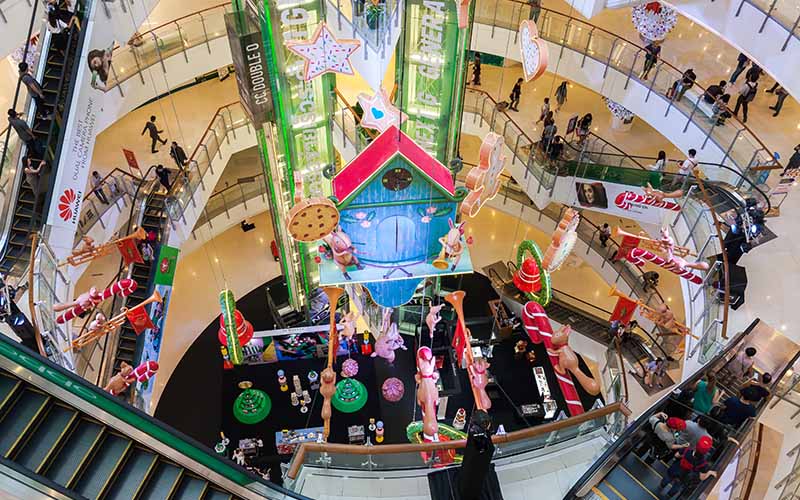 Central World is the largest shopping mall in Thailand, consisting of eight floors. Each of these floors is divided into different themes. This mall has a good mix of local, international, and high-end brands catering to every type of shopper. It also has an indoor ice rink like the one in Dubai Mall and many dining and entertainment options.
Conclusion
Thailand is a shopper's paradise, and you will find something for every budget and need. So, the next time you are in Thailand, make sure you set aside some time to explore these lovely shopping places.
---
Also Read: Thailand Souvenirs & Gift Ideas
---