Halal restaurants in Bangkok offer a wide variety of delicious dishes, and the city is home to many Muslim-owned and operated eateries. Whether you are in the mood for traditional Thai cuisine or something more exotic, Bangkok has plenty of options for halal food lovers.
Muslim food in Bangkok can be found everywhere in the city, from street vendors to high-end restaurants. Muslim Restaurant Bangkok is a popular choice for locals and tourists, with its diverse cuisine and affordable prices.
Some of the best halal food in Bangkok can be found at these restaurants.
Best-Rated Halal Restaurants in Bangkok That Will Satiate Your Taste Buds
1. Sinthorn Steakhouse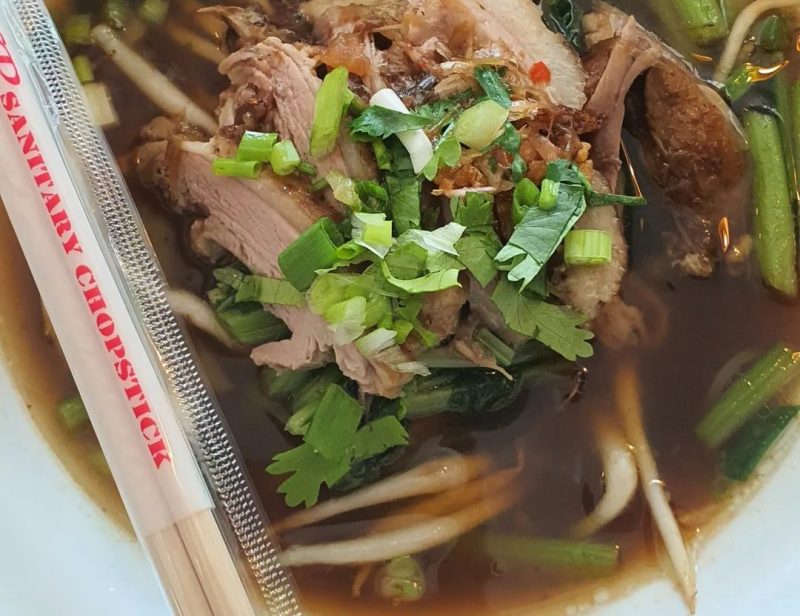 If you share our enthusiasm for a juicy steak straight from the grill, Sinthorn Steakhouse is the place to be. It is one of Thailand's most famous guest restaurants, and its reputation for offering delicious grilled meats has made it a favorite among Thai Muslims. Of course, that is not everything. The Sinthorn steakhouse menu features many international cuisines, from Thai to Mediterranean. You can even enjoy the fun of making your meal at a restaurant with their halal Thai barbecue steamboat.
2. Yusup Pochana
One of the best things about Thai Muslim food is that it is not limited to only Thai dishes. Yusup Pochana is a great place to eat traditional Thai Muslim cuisine. This hidden restaurant is a favorite of both residents and visitors. Thai-style biryani with yellow rice and roti mastaba, two staples of the Thai Muslim diet, can be found here. They also serve delicious soups and a unique take on goat curry called Kuruma Peh, which is well worth trying.
3. Restaurant Yana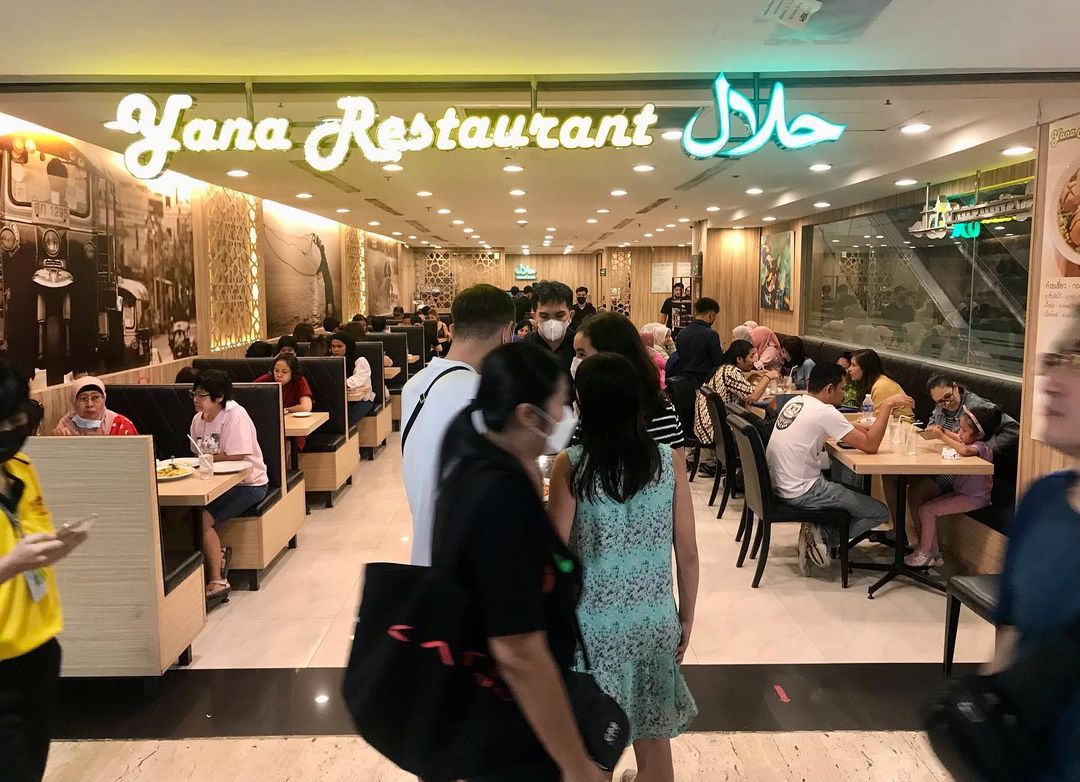 The most well-known shopping mall in Bangkok, MBK, is a must-see for anyone visiting the city. You may rest easy you will not have to go hungry while shopping because Yana Restaurant is nearby and serves delicious halal cuisine.
Yana Restaurant, conveniently placed on the fifth level of this big shopping mall, is a popular destination for Muslim visitors. They include a wide selection of fusion cuisine, including western staples like burgers and Thai staples like tom yum and curry. Stopping at this restaurant on your way to or from the mall is a no-brainer because of its proximity to your destination(s), low prices, and high-quality food.
4. Maedah Restaurant
If you still need to decide what to eat, come to Maedah Restaurant because they serve various cuisines. Pratunam is one of Bangkok's major shopping areas, and the restaurant is a convenient stop along the way.
Turkish kebabs, Indian biryani, and pad thai are just a few of the delectable options on the menu. However, many claim that their tom yum is among the best in Bangkok! No matter what it is you are in the mood for, you will be able to find it here.
5. Samat Muslim Food
If you find yourself at Pratunam, do not forget to stop by Samat Muslim Cuisine. This unassuming restaurant is conveniently placed near Pratunam Market and only a three-minute stroll from ARL Ratchaprarop Station, yet only a few tourists know about it.
After a day of exploring, nothing beats returning to Samat and tucking into warm, hearty food. Furthermore, the price is very reasonable. You must try the Tom Yum, a tangy, spicy, and sour soup that is one of their specialties.
The papaya salad is crunchy, spicy, flavourful, and a must-order item. Whole fish meals, such as stir-fried and steamed seabass, are great for sharing if traveling with a large party.
6. Saman Islam
After a long day of facing the blazing heat of Chatuchak Market, what could be better than indulging in a bowl of warm beef noodles followed by a side of freshly made Thai fishcakes?
Saman Islam is the ideal place for local Muslims to refuel, and it is conveniently located in the middle of Bangkok's largest weekend market. The restaurant serves everything from spicy tom yum to fried chicken. Open only on the weekends; the restaurant draws a steady stream of vacationers because of its extensive menu and generous serving sizes. Come here if you are starving and need something substantial and flavorful.
7. The Busaba Halal Cuisine Restaurant
Bangkok's roasted duck is halal. In all seriousness, we assure you. It is unsurprising that a Chinese meal like a roast duck has entered Thai cuisine, given Bangkok's diverse population. Busaba is one of the few places in Bangkok to buy a halal roast duck, and if you are craving a taste of Thai-style roast duck, you should try their Duck with Egg Noodle.
Organic coffee and tasty sweets are to be noticed. Busaba is the place to go for your café fix if you are looking for a halal restaurant in Bangkok. Were we to suggest that Busaba also has a hipster café atmosphere? Busaba's location in Dusit, far from the hustle and bustle of Bangkok's central retail districts, may put off some potential customers. Still, the restaurant's delicious roast duck is well worth the trek. Also, this is an excellent opportunity to check out a part of Bangkok that most tourists overlook.
8. Usman Thai Muslim Food
Usman Thai Muslim Cuisine is the spot to refuel if you have been out shopping on Sukhumvit. This unpretentious restaurant's friendly service and the substantial fare will make you feel at home.
Usman has got you covered if you are searching for delicious Thai cuisine to share or individual dishes. The tom yum, crab curry, deep-fried seabass, and papaya salad at this restaurant are all delicious, but you will not go hungry if you also order one. You may also get your noodle and rice fixed with dishes like Pad See Eew and Thai Fried Rice.
We cannot think of a single dinner that does not benefit from ending with dessert, and their Mango Sticky Rice is a particular favorite. The delicious mangoes and the enticing sticky rice will satiate your hunger.
9. Nadimos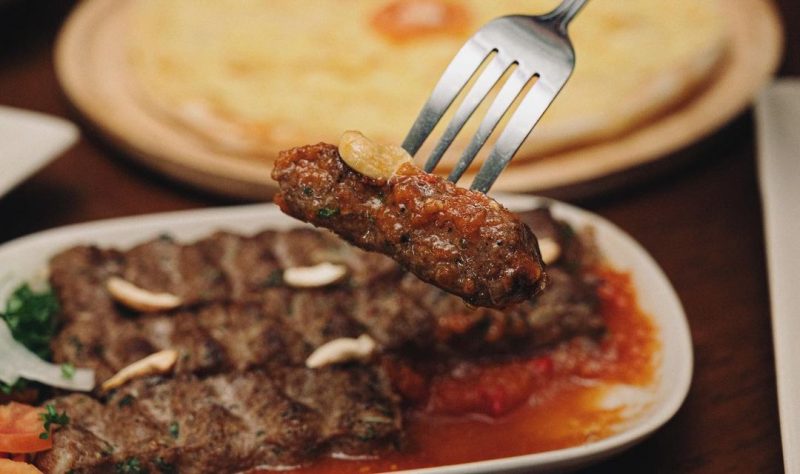 Thai is one of many food options in Bangkok. If you are seeking to mix things up, this city is a perfect place to do so because you may try dishes from all over the world. Indulge in some authentic Lebanese fare at Nadimos. Customer reviews consistently rank it as one of Bangkok's highest-rated establishments.
Fresh kebabs, warm pita bread, and baba ghanoush, a famous eggplant dip blended with garlic and other delectable spices, are just a few of our favorite meals at Nadimos, a Lebanese restaurant. Also, the portions are large, and the service is warm and welcoming.
10. Al Hussain
Indian cuisine never fails to satisfy you, no matter where you are. If you are craving Indian and Arabic food in Bangkok, Al Hussain is one of, if not the best, options. We commit to offering only the freshest ingredients seriously at this restaurant. All the meats are sliced and cooked to order, and the bread is baked fresh every day, so you can rest assured that everything will be served to you hot.
Try their kebabs if you are in the mood for a hearty meal. Their Kebabs are generously seasoned with various herbs and spices and serve much food.
If you want something lighter, try their oven-fresh naan with dal and hummus on the side.
Conclusion:
Bangkok has a wealth of options for halal food lovers. From traditional Thai dishes to exotic Korean cuisine, there is something for everyone's tastebuds in this vibrant city. Muslim restaurants in Bangkok are easy to find, and many offer affordable prices and a welcoming atmosphere. When visiting Bangkok, check out some of the best halal restaurants in the city for an unforgettable culinary experience. You can also discover some of the finest rooftop restaurants in Bangkok to uplift the experience.