Around 40,017 temples are dotting the skyline of Thailand. From historical sites to Riverside, here are 8 best temples that will leave you awestruck.
A part of southeastern Asia that has a golden hue, stunning beaches, lip-smacking cuisine, tropical forests and long coastline- Thailand is teeming with amazing tourists attractions. Things do not end here. Thailand is incomplete without sprawling, gleaming and glitzy temples. This is a sacred space that has centuries-old temples to Buddha statues on trees. One can not and should not escape this city without witnessing its colourful and ubiquitous religious devotion.
Wats, temple or shrines, Thailand has been radiating a cultural vibe. It has a bountiful temples with their incredible stories and architecture.
Find out top 8 beautiful temples in Thailand that you should go to-
1.Prasat Sut Ja-Tum (The Sanctuary of Truth)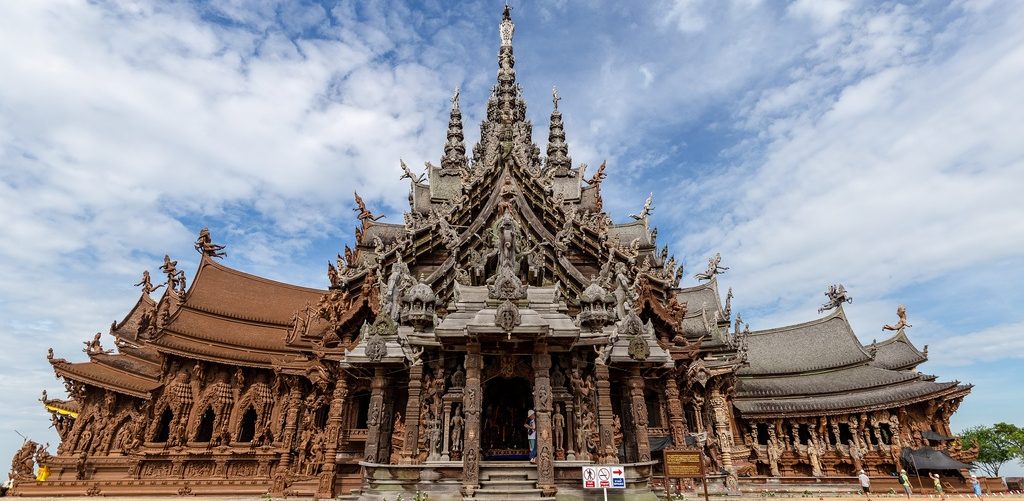 City: Pattaya
Opening Hours: 8am-6pm
Admission fee: 500 Baht (Adults)/ 250 Baht (Children)
It's inevitable for a person who has bowed here and not been mesmerised by its unique intricate designs. Seated in the sea in North Pattaya, this is a fusion of temple and palace. Commissioned by a millionaire, who wanted to preserve the tradition, has made this entirely of teak wood as a manifestation of unparalleled Thai craftsmanship. The detailed carvings of Chinese and Hindu deities adorn this iconic attraction.
Interesting fact: It is surrounded by waters, made of no metal nails, and boasts the highest point at 105 metres.
2.Wat Arun (Temple of Dawn)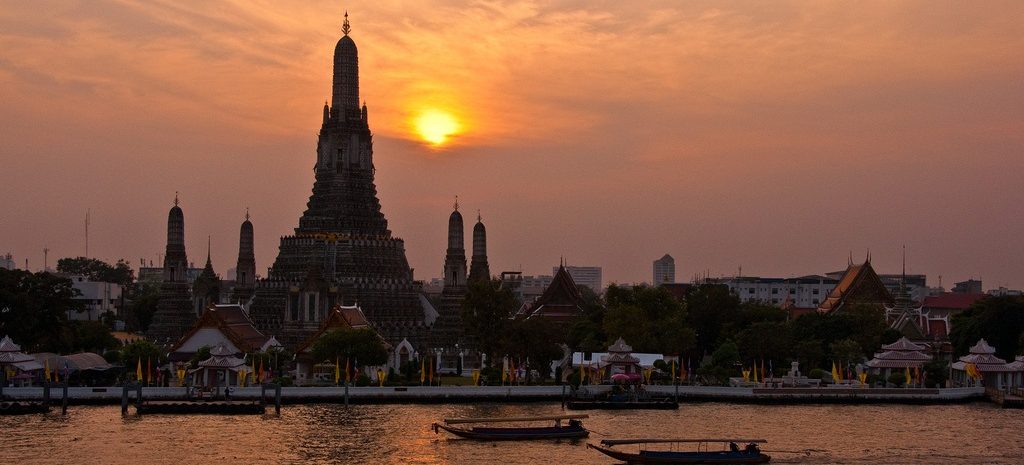 City: Bangkok
Opening Hours: 8.30 a.m. to 5.30 p.m
Admission fee: 100 Baht
Known as the Temple of Dawn, the name derives from the Hindu God Aruna, the rising sun. Tucked across the Chao Praya River, it is majestic at daylight and unbelievable at night, making it one of the highest observed riverside landmarks in Thailand. It adds a feather to Bangkok's skyline with its impressive 230ft (70m) spire. You need guts to climb the steep stairs, which offers a splendid view of the city.
Interesting fact: Envisioned by the King Taksin in 1768 who visited this place as the dawn was breaking, this stunning temple features 79 meters high Khmer-style tower decorated with ceramic tiles and fragments of multicoloured Chinese porcelain, a pair of impressive mythical giants at the entrances and the four smaller towers of the God of Wind.
3.Wat Phra Kaew (The Emerald Buddha Temple)
City: Bangkok
Opening Hours: 8.30am-3.30pm
Admission Fee: 500 Baht
Home to the Emerald Buddha, this is a temple often used by the royal family for celebrations and festivals. It is favourably located in the historic centre of Bangkok, the recognisable landmark and vibrant tourist hub, Grand Palace. As you are to enter, you can discover 5-metre tall 'Yaksa Tavarnbal', followed by elaborately decorated hall buildings and the stone inscriptions. So, grab a river taxi and reach this phenomenal construction made out of emerald; jasper or jade maybe.
Interesting fact: The Emerald Buddha is particularly small, actually very small- 26 inches (66 centimetres) tall and is the icon of the shrine.
4.Wat Rong Khun (The White Temple)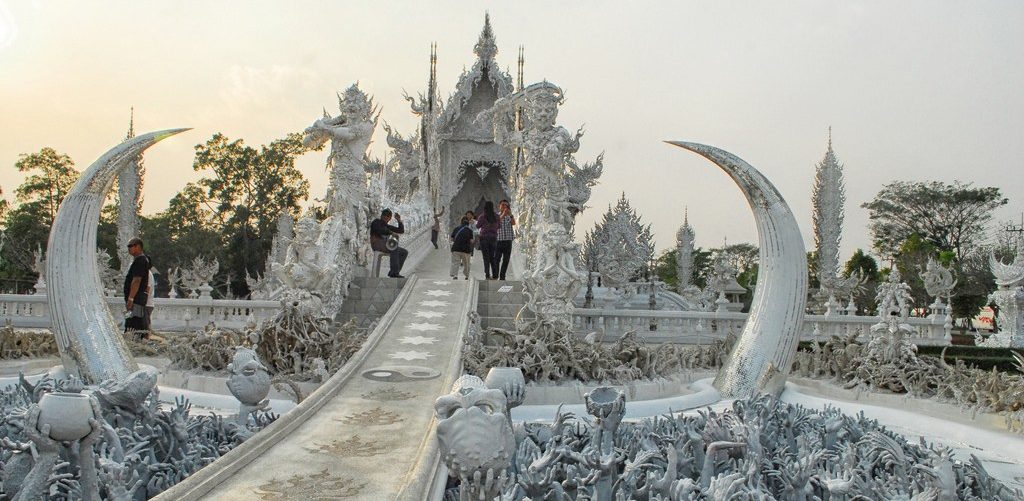 City: Chiang Rai
Opening Hours: 8.am-5.00pm
Admission Fee: 50 Baht
To embody the purity and sacredness of Buddha, this temple is built in absolute white colour, making it one of the most photographed temples in Thailand. The temple's design has the power to share a deeper meaning that one must conquer the cycle of life and death to reach nirvana. Besides honouring the eternal Buddha, this temple has also been a centre of attraction for displaying characters like Harry Potter and Hello Kitty through the unusual art. Watch the floating Buddhas, visit the in-house studio and shop souvenirs.
Interesting fact: There are pieces of glasses that have been plastered in the design to sparkle and shine in the sun.
5.Wat Pa Maha Chedi Kaew (The Temple of Million Bottles)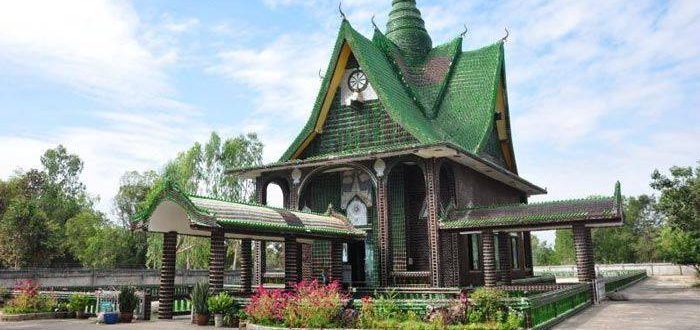 City: Sisaket
Opening Hours: 8am-6pm
Admission Fee: 100 Baht
Now, this is not your usual kind of temple, where the outside and inside is composed of the bricks or stones. This is the temple that is built out of 1.5 million recycled beer bottles. The entire composition is done by the green and brown bottles that adds to the shine of the temple. That's not all- the bottle caps are used to create the mosaic. The complex has 20 buildings, including prayer rooms and washrooms all made on the same history.
Interesting fact: The monks wanted to get rid of litters and find an eco-friendly solution to the rising junks, and hence this temple cropped up.
6.Wat Pho (The Temple of the Reclining Buddha)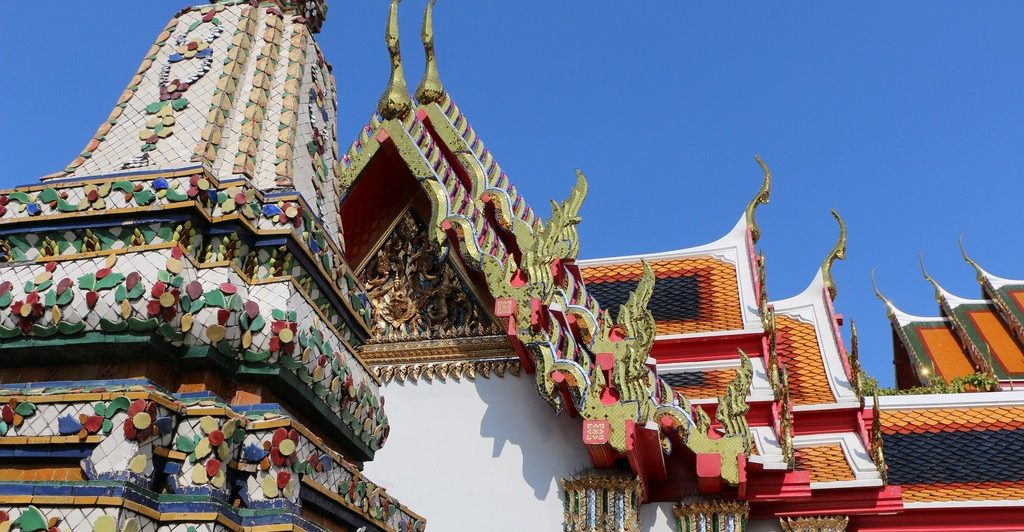 City: Bangkok
Opening Hours: 8.am-5.00pm
Admission Fee: 100 Baht
Situated in the vicinity of Grand Palace, Was Pho is the Bangkok's oldest temple. Amongst the 6 highest-grade of first class Royal Temples, this makes its prestigious place in the list. And the reason is its 15 m tall and 46-m long gold-plated reclining Buddha image, which is breathtaking. It is also the centre for educating people about religion and science, has thousand Buddha images in its complex, and provides foot, head and shoulder massage.
Interesting fact: It is home to 91 stupas, central shrine, four great Stupas, gardens and pavilions, and a temple museum.
7.Wat Benchamabophit (The Marble Temple)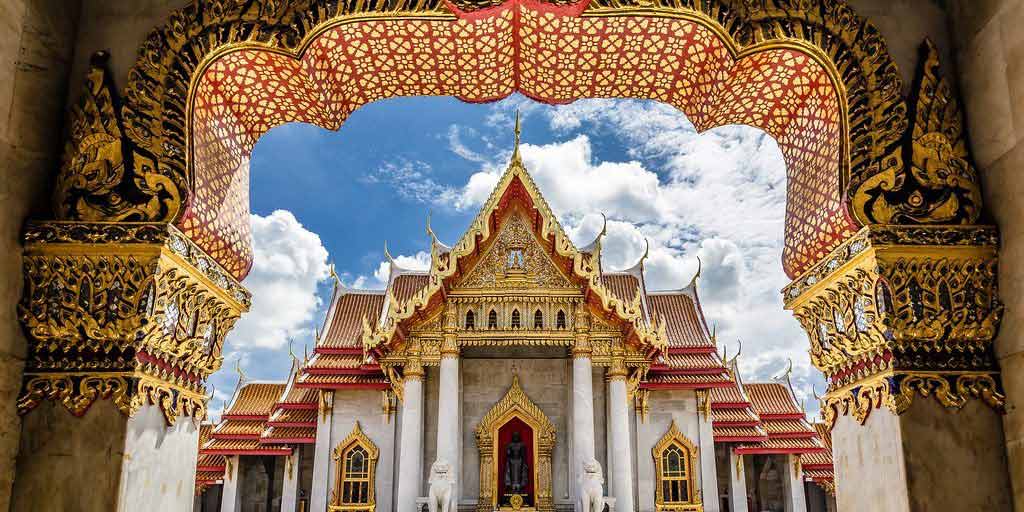 City: Bangkok
Opening Hours: 8.00am to 5.30pm
Admission Fee: 20 Baht
A temple of significant importance, placed in first-class Royal Thailand temples and undoubtedly one of the exquisite looking shrines, Wat Benchamabophit is a blessing to Thailand. Better known as the Marble Temple, the temple's construction began in 1899 and today it epitomises Bangkok's unbeatable architectural style with the multi-tiered roofs, gold carvings and intricate finials. In the hall, you can pray to the Sukhothai-style Buddha statue.
Interesting fact: There are 52 Buddha images from different periods, and the Bodhi Tree brought from the original enlightenment place of Buddha.
8.Wat Mahathat (Temple of the Great Relic)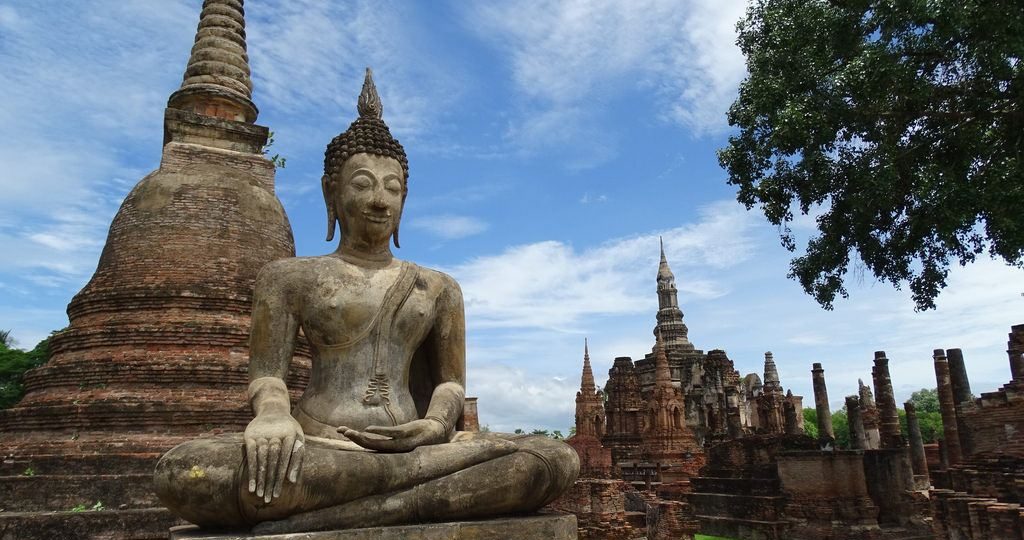 City: Ayutthaya
Opening Hours: 9.00am-5.00pm
Admission Fee: 50 Baht
Want your fortune to be told in the temple? Well, this is your spot. Amongst the many ruins in the Sukhothai Historical Park (site of an ancient Thai kingdom in the north of the country), Wat Mahathat grabs maximum response. It is famous for the Buddha head that emerges in between the entanglement of the branches. Standing on the west bank of Khlong Pratu Khao Pluak, the structure has been registered as a national historic site by the Fine Arts Department on 8 March 1935
Interesting fact: Visit it on Sundays when you can shop around in the largest amulet market that has religious amulets, charms, talismans, and traditional medicine to shower good luck.
Don't these stunning temples deserve a visit? Kick-start your trip by adding these to your Thailand itineraries.