Beaches, spas, nightlife and shopping are the things that come to your mind when you think of Bangkok. This city of Thailand is a favourite destination for people around the world, especially for youngsters. The vivacity and liveliness of the city are something that make really popular. However, Bangkok is not just about beach hopping and shopping. On the other hand, one of the major highlights of this city is its food, especially its street food.
The street food of Bangkok is a treat to your taste buds and senses. The best part is that it is readily available and quite inexpensive too. In other words, you do not have to visit expensive restaurants to enjoy the delicious Thai flavours. Most of the street hawkers and street food stalls would dish out the most delicious, authentic Thai dishes that you have ever tasted. So, if you are a foodie and do not mind tasting something different and unique during your stay in Bangkok, here are a few street foods that you must try when in the city.
1.Papaya Salad
One of the best Thai delicacies that you would find on the streets of Bangkok is Som Tam or raw papaya salad. The combination of raw, green papaya mixed with fresh condiments and other ingredients in a mortar and pestle will definitely get you hooked to this delicious dish. This salad is made by combining raw papaya with lime juice, garlic, fish sauce, peanuts, chillies, tamarind juice and tomato. The mix of all these flavours along with the salted crab and dried shrimp makes this a favourite amongst locals and tourists.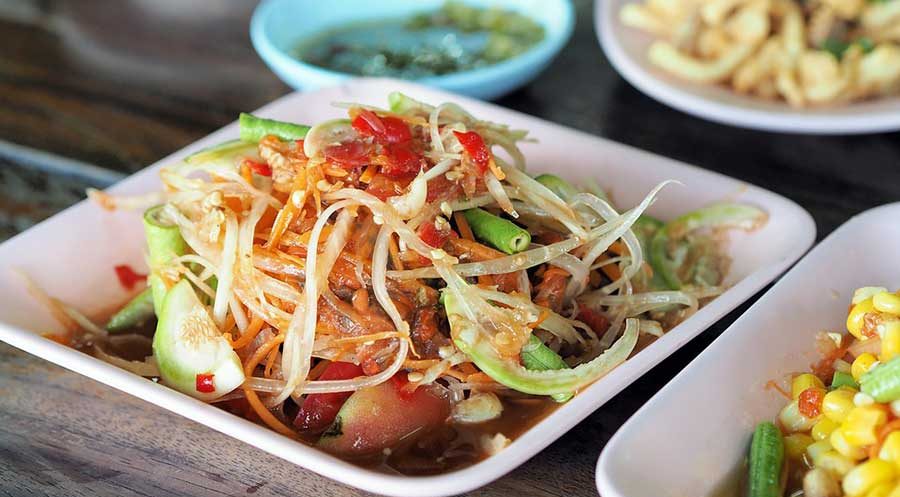 2.Pad Thai
Pad Thai is considered to be the national food of Thailand and hence is something you must definitely not miss. This dish is wholesome and perfect comfort food when you are hungry and tired. Pad Thai noodles are made by frying Thai-style noodles along with vegetables like bean sprouts and pickled radish along with ingredients like egg, fennel and seafood or meat. Apart from this, the dish also contains ingredients like chilli powder, fish sauce, palm sugar and some groundnuts. Just like the papaya salad, Pad Thai noodles are available at most food street markets, and you should definitely try it when in Bangkok to enjoy the authentic taste.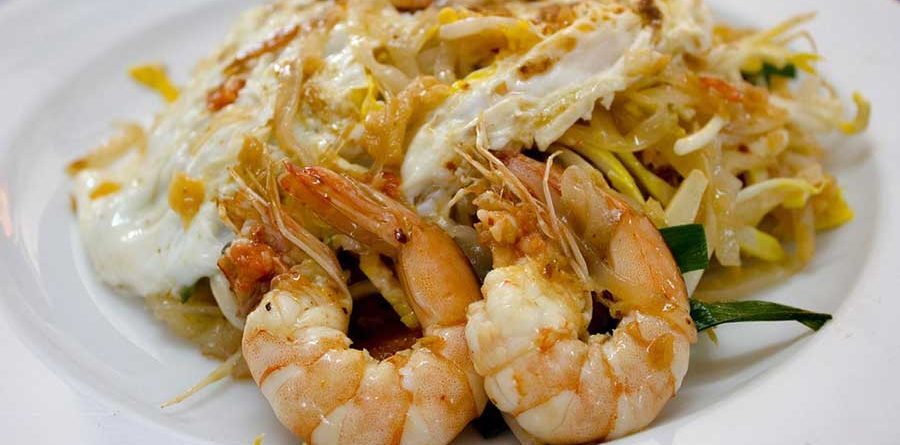 3.Vegetable Rice Porridge
Thai food can be quite spicy and not many can stomach it. If you want to take a break from the outburst of spices, you can try the vegetable rice porridge. Made with mild spices, this dish is soothing to the stomach. Made with rice, mushrooms and cabbages, this dish is flavoured with little bit of salt and ginger or garlic. This is the perfect dish if you want to take a break from all the seafood and meat you are eating and also for those who enjoy subtle flavours.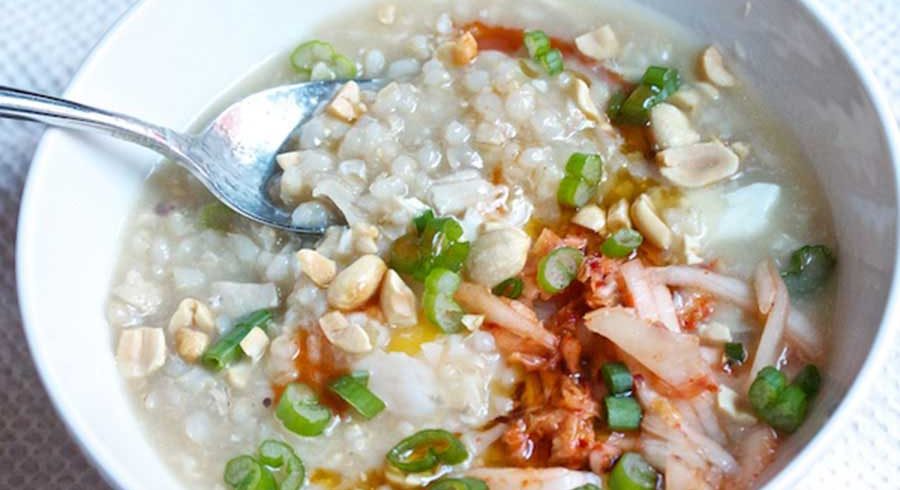 4.Thai Iced Tea
Bangkok has a tropical climate and the temperature can soar really high during the days. This can cause you to crave for a cool drink during the day while sightseeing and shopping. So, before you order that cold bottle of soda, do check out the delicious and cool Thai iced tea. If you are familiar with the Thai tea (black tea), you would find its flavour in the iced tea. However, this tea also has coconut or condensed milk added to it. It is sugary and deliciously creamy. With a hint of star anise and lots of ice, the Thai ice tea is perfect to cool your body and mind on a warm afternoon.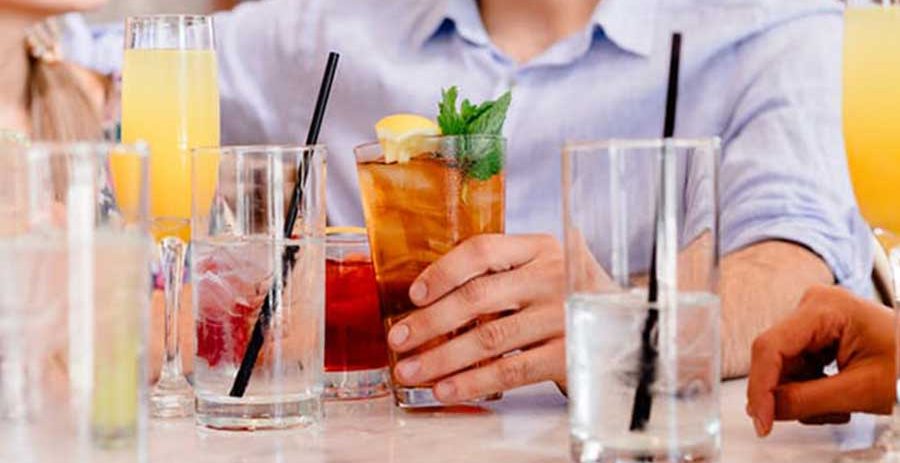 5.Fresh Fruits
We all tend to overeat when we are on holiday, and with Bangkok being a haven for food lovers, you may not realize the calories piling up on your middle. However, Bangkok is not just about fried and rich foods. On the other hand, you can find some really delicious and healthy food options if you look for it. So, instead of the noodles and rice for breakfast, you can go for some yummy fresh fruits. Most food streets in Bangkok have hawkers selling fresh, cut fruits like rose apple, grapes, rambutan, mangosteen, etc. So, if you feel like giving your tummy a break, head to a fresh fruit stall, and you would not be disappointed.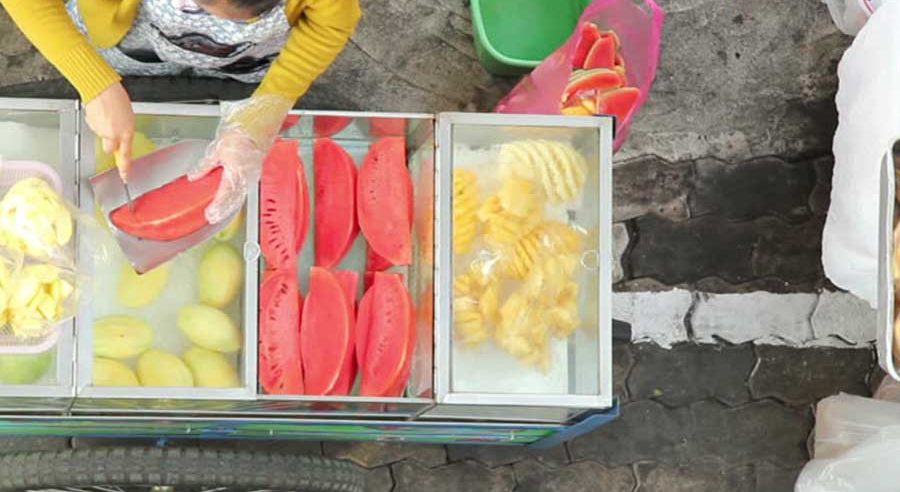 6.Tom Yum Soup
If you want to enjoy all the authentic flavours of Thailand in one bowl, you must try the Tom Yum Soup. However, before you buy this soup and put a spoon in your mouth, you must know that this soup stands at the spiciness list as it a lot of chillies. So, if you are not faint-hearted, you must go for this soup. However, apart from being super hot and spicy, you would also find this soup to be sweet, sour and a little salty. Made with broth that has lot of fragrant herbs, you can add vegetables, seafood, meat and chicken (as per your preference) before enjoying the Tom Tam soup.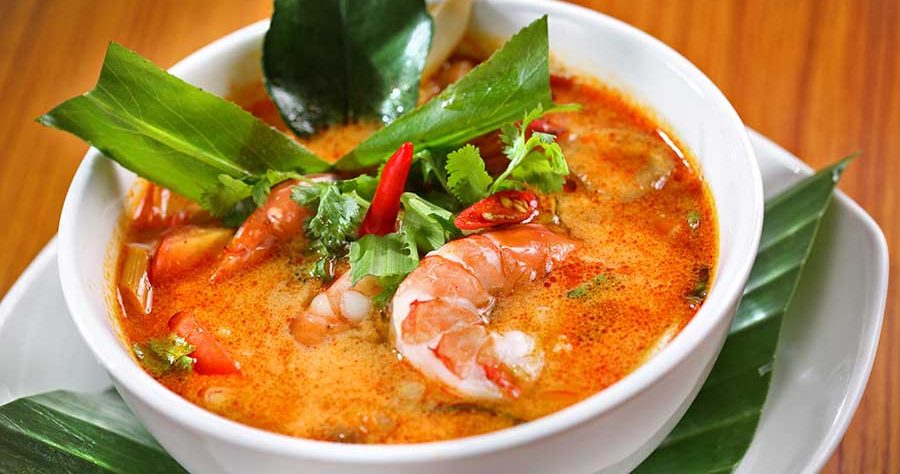 While these are some of the most favourite Thai dishes found in the streets of Bangkok, this list is limited. There are several other dishes that would take a place in your heart once you have tasted them. So, let your eyes, ears and sense guide you on a Thai cuisine journey, and I would definitely say that you that the hawker streets of Bangkok would not disappoint you.