The nightlife scene in Bangkok has evolved over the last couple of decades with more focus on swanky rooftop bars, lively cocktail bars, and vibrant nightclubs. The capital city of Thailand has much more to offer than you can ever imagine. Whether it is the party scene at the Khao San Road or the laid back nature of the Soi Rambuttri or the hip hop Thonglor which launches a trendy bar almost every week, you would be spoilt for choices considering the options available for your disposal.

1.Rooftop Bars
There are more than sufficient places to enjoy a laid back night at one of the top lounges in Bangkok. Soak up full 360 around the city and you are sure to find a spot to party late into the night. Many rooftop bars follow a strict dress-code, so do follow them to avoid any embarrassment. Some of the popular ones include the Vertigo – Banyan Tree Bangkok Sathorn, Sky Bar – Lebua at State Tower Riverside, Octave Rooftop Bar at Marriot Hotel Sukhumvit, Park Society at Sofitel So On Sathorn, Three Sixty at Millennium Hilton Bangkok, and much more.
2.Bangkok Clubs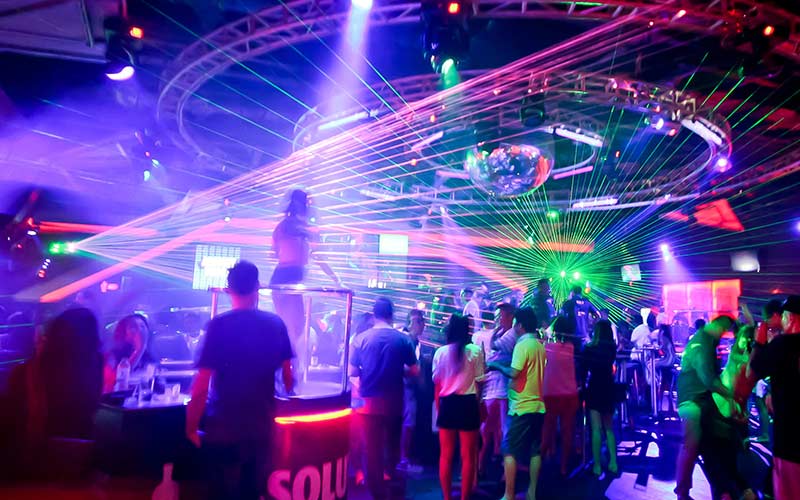 One of the legendary activities you can indulge in, there is always something new to explore and discover in the vibrant clubs of Bangkok. With the best electronic music scenes, fascinating scope and new designs placed across different parts of the city, the tourists can enjoy the vibrant nature of the clubs in Bangkok till wee hours in the morning. Many clubs in Bangkok is fairly relaxed and do not have a strict dress code, but an ID would be essential for entering the place. Probably one of the best ways to spend a night out in Bangkok city.
3.Go-Go Bars in Bangkok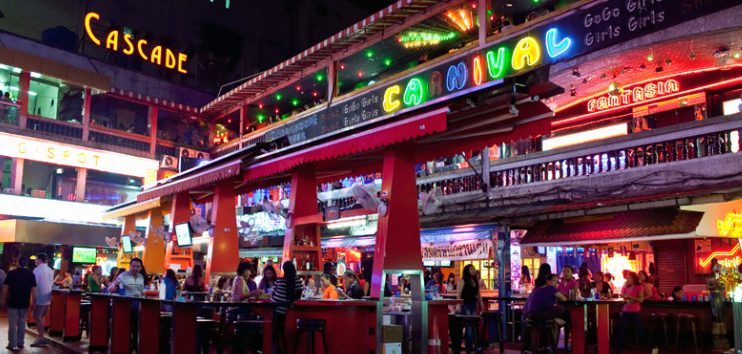 Many bars have earned this special tag thanks to their adult-only entertainment in the place. The visitors take a seat facing the central stage. A bunch of around 40 dancers keep the audience engaged, while others prefer to sit, interact, and have a drink or two with their customers. Spread across three main areas in the city of Bangkok; Nana Plaza, Soi Patpong in Silom, Soi Cowboy in Asoke. The trademark of these bars is flashing neon lights and a bugging staff who would keep inviting you in. People get attracted towards this place more to satisfy their natural curiosity rather than being adventurous. The bars are safe and reasonable and will not be too heavy on your pocket.
4.Ladyboy Shows in Bangkok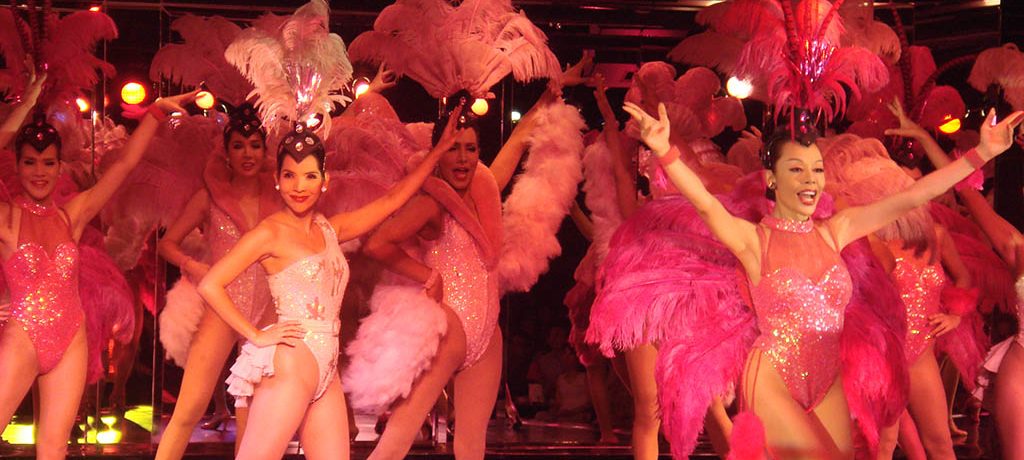 The Ladyboys of Thailand are also known as katoeys are some of the most beautiful and convincing transgender in the world. These transgender are embraced by a highly tolerant Thai society with many families believing that they bring in good luck to them. Gender reassignment surgeries are considered legendary. Many of the stage performers have gone under the knife for a breast implant and are saving their last race of manhood. To beef up the excitement quotient of the audience, comedy skits are arranged. In short, these amazing and highly artistic performers woo their audience with their charm, flawless female impersonations, and unique creativity. It will be really hard for you to differentiate who is an actual woman on stage.
5.Bangkok Gay Nightlife
Thailand boasts of a highly tolerant society where sexual preferences are respected as a personal choice especially if it concerns homosexuality. Gays, lesbians, and transsexuals are very common in the Thai society and are treated with respect and dignity in the same way as normal individuals. Bangkok has been dubbed the gay capital of Asia. There are several gay pride events held annually in three major destinations in Thailand; Bangkok, Phuket, and Pattaya to celebrate the freedom and diversity of Thailand culture. The first festival was launched in the year 1999 in the Silom and Surawong area. After a short hiccup, it was relaunched in the year 2017.
6.Night Markets in Bangkok
One of the easiest and enjoyable ways of getting up close with the local life and culture in Bangkok city. The night markets are spread across the city and offer an incredibly diverse range of products and goods, accessories, snacks, and plenty of entertainment. Do polish your haggling skills as they would come in handy here. Some of the popular ones include Rot Fai Market and Patpong Night Market. You can shop for some vintage fashion apparels and accessories or grab some cheap bites or some evening drinks. You have plenty of engagements to spend your night out here.
7.Dinner Cruise in Bangkok
A cruise along the Chao Phraya River at night under the star-studded sky gives you access to a beautiful scenery of the amazing temples of Bangkok. Visit the Banyan Tree hotel which is coupled with the luxury of the Apsara makes the night out truly special. As you browse through the famous landmarks of Bangkok, a scrumptious yummy Thai dinner awaits you. The journey lasts for about 2 hours and is a perfect way to break up from the shackles of a busy city and enjoy peace and serenity while on the shores. This is also probably one of the romantic ways to spend the night out in Bangkok.
8.Siam Niramit Bangkok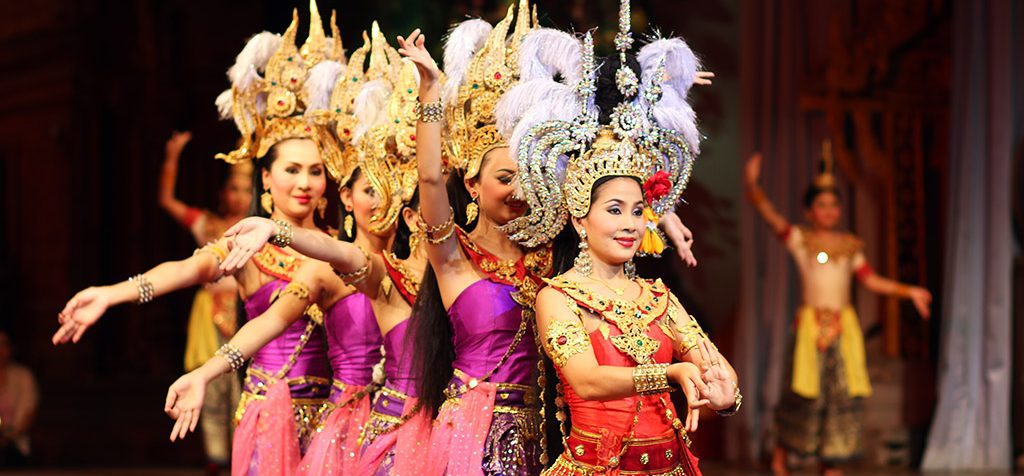 Thailand offers an intriguing scene with its rich history, captivating culture, traditions, and customs. The spawning history of Thailand is spread over 7 centuries and is captured in this 90-minute production known as Siam Niramit Bangkok. Placed in the Ratchada Theatre, which is a miniature Thai village, there are souvenir shops, a Sawasdee restaurant to complete your experience here. The building is designed with a contemporary Thai style design with sculptures of Kinnaree and small Salas. You also have an opportunity to feed the elephants, listen to the popular Ranad band that is a Thai xylophone, and also click pictures with the characters of the show. A wonderful way to browse through the rich traditions and history of the Bangkok city.
9.Jazz Bars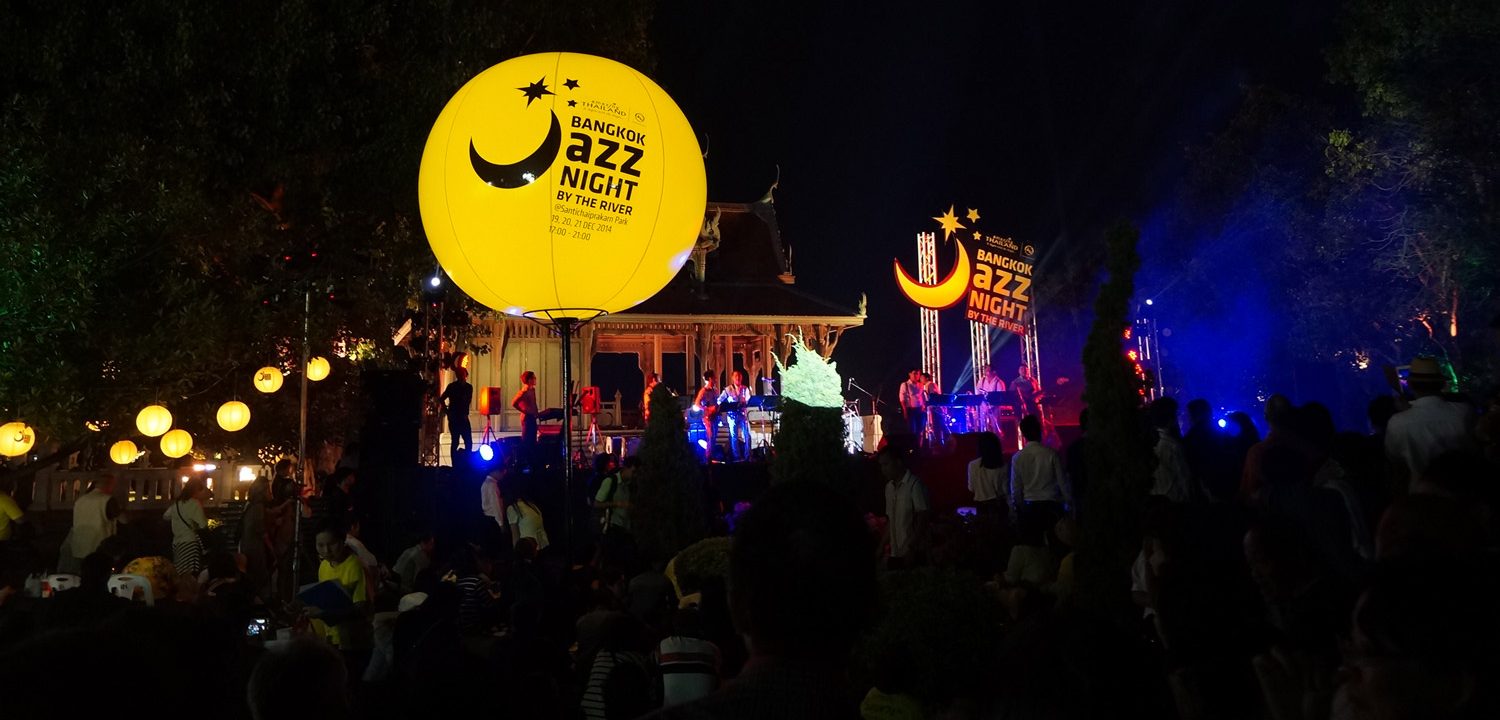 People often associate loud, naughty, and rowdy when they think about the nightlife of Bangkok. But you can witness spectacular and classy jazz bars which you can enjoy in style in many bars and clubs in Bangkok. Many of these bars feature local talent and a host of international artists who are hired on a nightly basis. Some of the popular ones include Saxophone Pub Victory Monument, Bamboo Bar Riverside, Jazz Happens Phr Atit Road, Brown Sugar Banglumpoo, the Living Room Sukhumvit, the Glaz Bar Chidlom at Plaza Athenee Hotel, Diplomat Bar Chidlom at Conrad Hotel, and much more.
10.Muay Thai Live show at Asiatique Bangkok
An exciting theatrical show which combines the best entertaining performances with the traditional martial art of Muay Thai boxing. A treat for family lovers, friends, and families who want a sneak peek into the Thai culture. The show lasts for about 90 minutes and there is hardly anybody who is left unimpressed after watching the show. There are new attractions and live shows re-launched each year considering the popularity of this show. The Asiatique, the river-front night market hosts this fascinating show every Tuesday to Sunday from 8 pm onwards. Catch your seat to witness the live action.