When you are travelling with your family, you have to be very careful while selecting a good hotel for your accommodation where you can make the most of your time with the kids. No matter how fussy your kids may be, it is important that you choose a hotel where their needs and requirements are met – it could be in terms of closest to their places of interest. If they are engaged and happy on their holiday, so will be you. We have listed some of the popular family friendly hotels in Bangkok which offer modern facilities and services that will keep the entire family including kids in high spirits.
1.Siam Kempinski Hotel
This hotel has several tricks in its bag to delight you each time you visit this place setting a benchmark for five star rated hotels in Bangkok. You will be in awe checking out the beautifully designed interiors. The communal spaces and the corridors houses delightful artwork and antiques which are soothing to your eyes. The Rotunda, a casual restaurant lies in the middle of the courtyard. It is nestled in between lush green tropical trees and plants and the three pools of the hotel. That's not all, the 7th floor houses the Kempinskis spa where the guests are pampered with their unique diverse treatments across all seasons.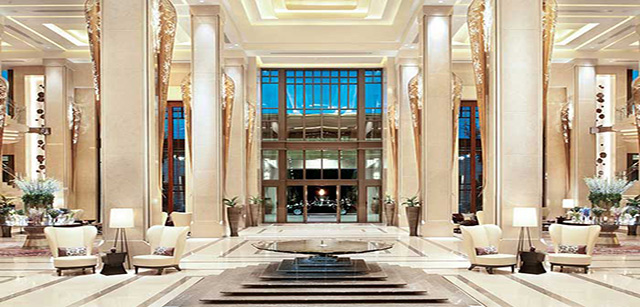 2.Royal Orchid Sheraton Hotel & Towers
A beautiful combination of Thai antiquity nestled in a resort-style complex, the five-star rated hotel has used vibrant rich colors and ornate furnishings to highlight its design. Suitable for all types of travelers and guests, the gold and teak-style lobby is intriguing and demands attention with features like a replica Buddha statue, a beautiful waterfall, musicians constantly playing Thai instruments, and much more. There is a host of modern amenities like river or garden view, two swimming pools, fitness center, tennis court, onsite Mandara Spa where you have the option of indoor or outdoor massage options.
3.Sukhumvit Park – Marriott Executive Apartments
Placed in the hushed end of Sukhumvit soi 24, the Sukhumvit Park is a stone away from the action sites like BTS and the Emporium Shopping Mall. You can access these landmarks with the complimentary tuk-tuk service provided by the hotel. The largest apartment houses 3 bedrooms. Incorporated with modern facilities like deli and pool bar, swimming pool, gym, spa, all-day dining restaurant, kids play room and renting a paddle boat at Lumpini Park. You can also visit the 3rd floor which directs you to a separate building where you can indulge in indoor sports like badminton, golf simulator, tennis, and squash and a small recreational rooftop area to sip a cup of tea or coffee. For business visitors, there are 5 rooms exclusively dedicated for your requirements with a maximum capacity of up to 140 people.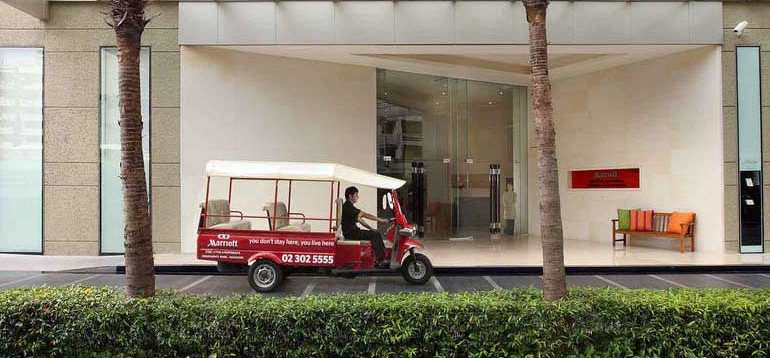 4.Anantara Riverside Bangkok Resort
The banks of the popular Chao Praya River is home to the Anantara Riverside Bangkok Resort placed on a massive plot of land. There are plenty of reasons why you would never feel like leaving the hotel – stunning pool area decorated by palms, tennis court, 11 restaurants and bars, gym with modern amenities, diverse spa treatments at the Anantara Spa, and the Crayon – a staffed kids playroom. A modern fusion of wood and colonial era high ceilings mixed with contemporary Thai design, this hotel carries a totally different ambiance from the busy Bangkok city even though it is only a few minutes away from the BTS Station or a boat ride.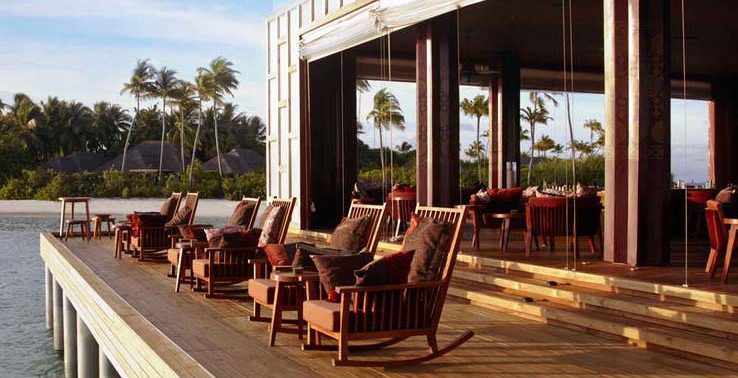 5.Grande Center Point Hotel
How often do you see a structure built using contemporary Thai design complimented with modern twists like extensive use of glass? Well, the Grande Center Point Hotel is one such example. The golden stupa shaped rooftop is visible even from a distance. Frangipani trees wrap the outdoor infinity pool where you can relax and offers a rejuvenating experience. You also have indoor sports facilities for tennis, a children's playroom, a home theater equipped with kids special DVDs, and a host of other activities such as karaoke and a direct access to a classic Bangkok special mall. The massive kitchenette gives you ample space to stuff your food and drinks.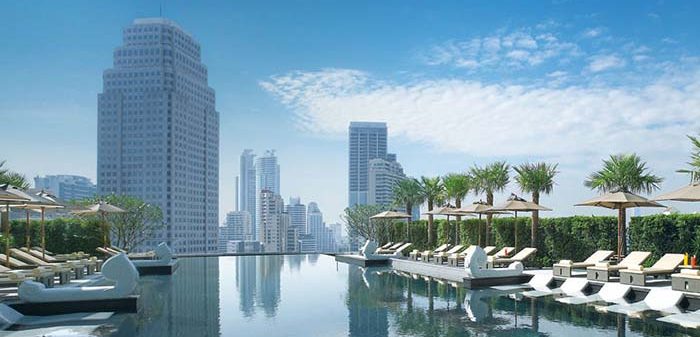 6.Novotel Bangkok Sukhumvit 20
The features of the Novotel Bangkok Sukhumvit 20 is so enticing that you would have to find serious reasons to not visit this place. Some of the classy features which make it an ideal family destination hotel are free kids club that gifts special gifts for children on arrival, outdoor pool, Food exchange to grab quick bites for all three times in a day, 3 bars or lounges including a poolside bar. The rooms are designed with rainfall showerheads and bathrobes. Apart from this, its close proximity to major attractions like the Suan Pakkad Palace makes it a favorite spot for families. For families with young kids, you have babysitting facility also available on request.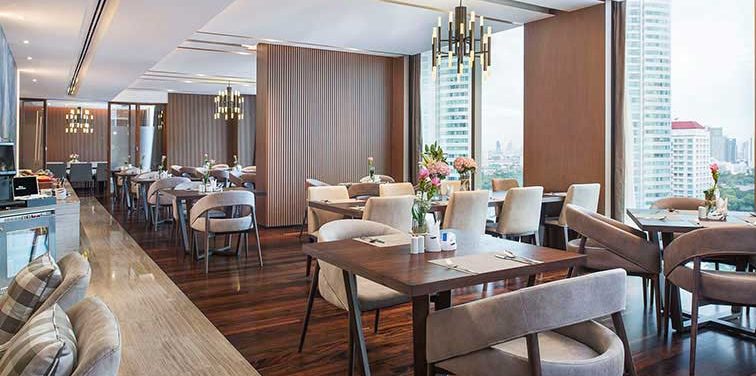 7.Pullman Bangkok Grande Sukhumvit
You will feel attracted by the stunning glass sail façade which displays its similarities of a popular Dubai hotel. Subtle interiors, chocolate brown and nude tones decorated rooms are some of the irresistible features of this hotel. The design is inspired by the Thai culture and the wallpapers in the rooms are inspired by floral motifs of temples, rustic carved shutters, and sepia shots of major Thai landmarks. The rooms are equipped with a king-size bed to ensure a smooth sleep, a cozy chair for lazy lounging, and a desk to catch up on your daily work.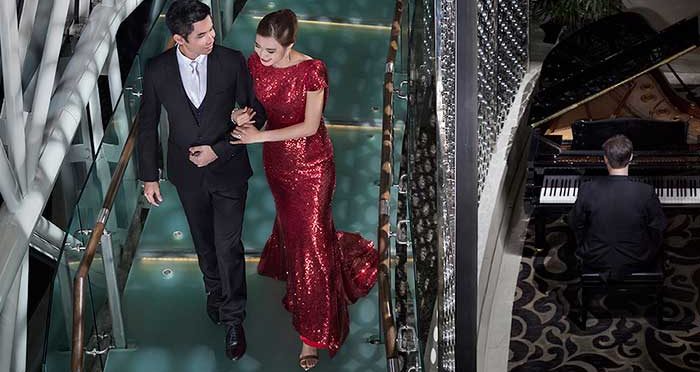 8.Ascott Sathorn
A five-star rated hotel and serviced apartments are easily accessible via BTS and are just a stone throw away from the Sathorn Bridge. It is strategically located in the Centre stage of shopping malls, the Silom financial district, spas, tailors, restaurants, and a well-dispersed local area. It houses 177 serviced apartments with options for studio, one, two, and three bedroom units. The rooms are equipped with a washing machine, cable TV, DVD player, full kitchen, dining table & chairs, king or twin beds, and a comfortable sofa that makes it ideal for both business and leisure travellers.
9.Chatrium Residence Sathon
Incorporate with a massive size where visitors and guests can indulge in a short or long stay, the Chatrium Residence Sathon offers a calm, peaceful, and wonderful environment with its modern amenities like a swimming pool and a glass-fronted lobby. With freeform rounded edges surrounding the Albricas, an International Japanese restaurant, a gym with modern facilities and equipment, and easily accessible via BTS Skytrain, BRT Service in the neighborhood.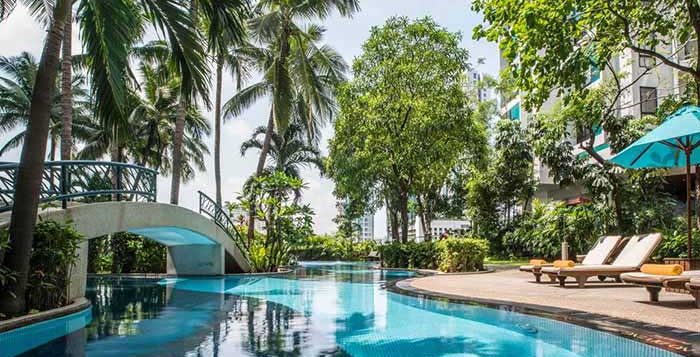 Thailand offers a great brand and variety in terms of family-friendly destination hotels. Get your reservation done in one of these exclusive clubs. Contact our travel expert to know more.